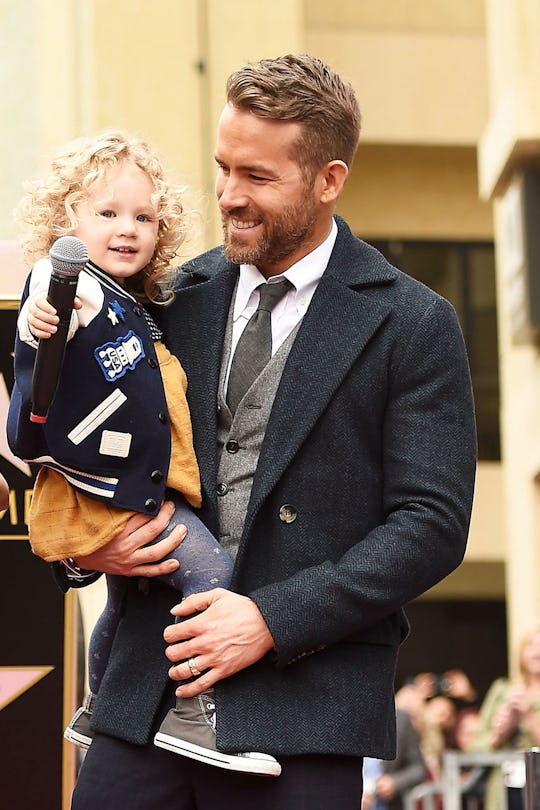 Matt Winkelmeyer/Getty Images Entertainment/Getty Images
Why Ryan Reynolds Avoids Air Travel With His Kids
Vowing to resist it at all costs, 40-year-old father of two Ryan Reynolds understands how disruptive flying with toddlers can be. Sharing his stance with Good Morning America on Thursday, Reynolds said he avoids air travel with his kids because, he explained, you just can't predict what they'll do. "At 2 years old, they just have to rip all their clothes off and introduce themselves to everyone on the plane," Reynolds joked with the show's hosts. He went even further with his opposition, claiming: "I would rather drink a piping hot bowl of liquid rabies than get on a plane with my two children." Point taken — he prefers rabies over babies (on planes, at least).
Reynolds has made plenty of jokes like this in the past. As far as maintaining a sense of humor about parenting, nobody keeps it quite as colorful as he does; Reynolds' tweets about fatherhood are unparalleled. Remember, this is the guy who once wrote: "On our 6am walk, my daughter asked where the moon goes each morning. I let her know it's in heaven, visiting daddy's freedom," among other hilarious gems. Seriously, his Twitter account is worth the follow.
Hot bowls of liquid rabies aside, Reynolds does have a bit of a point. You don't have to be a parent yourself to understand how unpredictable it can be to try to fly with a young family. In fact, it didn't even take Reynolds a firsthand experience to pick up on how tricky it gets. "Before I had kids," he shared, "I was always like, 'God, that's hard.'" He mentioned that he noticed that parents on planes were constantly "sweating and they're nervous because their kids are yelling and everyone's mad at them."
Whereas this anxiety is understandable, the pressure is absolutely unnecessary. Luckily for Reynolds, there are a few solutions he might want to consider, which could help him muster up the courage to give it a go. Online organizations providing support for parents traveling with little ones can help to lighten the load, taking some of the guesswork out of the equation. Groups like Bébé Voyage offer family-friendly packing lists and itineraries, while providing an online community of travelers on Facebook. Tips are shared and bonds are formed, making the thought of bringing kids on board a little less daunting.
No word yet on whether or not Reynolds' wife, Blake Lively, feels the same way about traveling with their kids, 2-year-old James and 5-month-old Ines. Wrangling two wily ones can be brutal, but Lively, Reynolds, and parents everywhere shouldn't feel like they must resort to impossible lengths just to get from point A to point B.
Regardless, whenever Reynolds does decide to bring his kids on board with him, he'd better live-tweet the whole thing — because his insights are comedy gold.