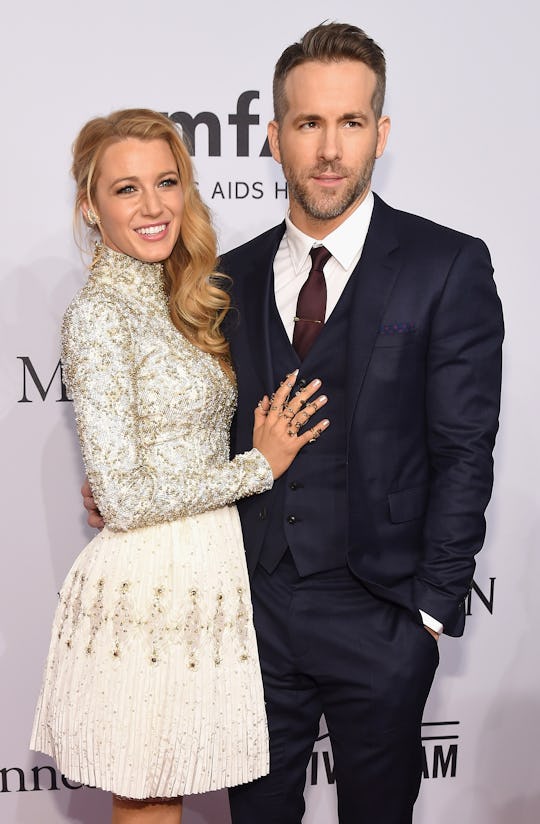 Michael Loccisano/Getty Images Entertainment/Getty Images
Ryan Reynolds' Birthday Message For Blake Lively Is Why They're Total #CoupleGoals
There are a lot of things to love about Ryan Reynolds and Blake Lively. They both seem super down-to-earth and cool. They are totally in love and appear to be very supportive of each other. They are devoted parents to their daughter, James, and gush about marriage and parenthood on the regular. And also, they just seem like they have a lot of fun together. Ryan Reynolds' birthday message for Blake Lively could have been a sappy tome about how fantastic and wonderful she is (and, let's be honest, that still would have been adorable), but instead, he tweeted a funny shoutout to his wife that proved they don't take themselves too seriously. According to US Weekly, on Lively's 29th birthday Thursday, Reynolds tweeted, "Just want to wish Billy Ray Cyrus the most special, magical birthday ever. I love you with all my heart. Also, Happy Birthday to my wife."
This isn't the first time though, of course, that Reynolds has shown how important humor is to his seemingly rock-solid relationship with his wife, who is currently pregnant with their second child. Any celebrity in a high-profile relationship is pretty much expected to thank his or her partner in any award acceptance speech, so when Reynolds won the Best Comedic Performance award at the MTV Movie Awards in April, he made sure to do so — kind of. According to Entertainment Tonight, Reynolds told the crowd, "I want to thank my wife. Everything I do is to make her laugh — especially the sex. So, thank you."
Lucky for him, Lively is just as happy to indulge his humor — and to hit him right back with teasing of her own. Lively posted a photo to Instagram back in February of the actor cupping one of her fully-clothed breasts while they sat together on a Deadpool-themed chair. Her caption? "Two Deadpools, one cup. Your turn."
But it's not just his wife who is often the subject of his hilarious tweets — his tweets about his daughter are also the best:
Of course, it's not all jokes and funny tweets. Reynolds has also spoken publicly about his love for his wife and their growing family, and it's clear their dedication to each other is totally solid. According to People, when asked about Lively as a new mom during an appearance on The Late Show With David Letterman, Reynolds said,
I'm just a diaper-changing facility hooked up to a life-support system, but my wife, she's breakfast, lunch and dinner. She's a human Denny's all day long … and it never ends for her. She's the most beautiful Denny's you've ever seen though, I guarantee it.
As for Lively's strength in the delivery room while giving birth to their daughter? Reynolds said,
My wife is the real — I mean she is a mercenary. At one point in the middle of the delivery, the doctor's cell phone went off and she said, 'Oh, no. Go ahead, take a personal call. Feel free.' She was cracking jokes in the delivery room.
Reynolds has also gushed about the early days of their romantic relationship, when the two actors — who had been friends for a while — realized they had feelings for each other during a double date:
About a year after Green Lantern had come and gone and we were both single we went on a double date – [Blake] was on a date with another guy and I was on a date with another girl – and it was like the most awkward date for the respective parties because we were just like fireworks coming across … We were buddies for a long time, which I think is the best way to have a relationship, to start as friends.
In other words, Reynolds and Lively are the epitome of everything that is awesome about celebrity coupledom. And the fact that they share their hilarious moments on social media with the rest of the world just makes it even better.