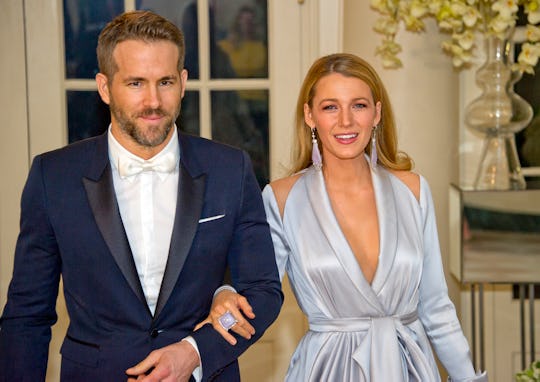 Pool/Getty Images News/Getty Images
Ryan Reynolds & Blake Lively Photos That Prove They're The Ultimate Power Couple
It's been pretty clear for a while that actors Ryan Reynolds and Blake Lively are one of the best couples out there. They praise each other, yet always manage to keep the humor going, are both at the top of their game career-wise, and they make an amazing set of parents to baby James Reynolds. If Lively and Reynolds weren't already your #couplegoals, that might be because you haven't seen proof of their rock-solid relationship yet. To seal the deal, here's some Ryan Reynolds and Blake Lively photos that will make even the best couples out there mildly jealous of Lively and Reynolds' perfect power couple life.
If you need a little backstory first, here's the low-down. The two originally met on the set of The Green Lantern in 2010, but didn't start dating until late the following year. After that, things moved fairly quickly and, by September 2012, Lively and Reynolds had gotten married. They now have a daughter, James Reynolds, and have a second baby on the way later this year. Despite their relationship and children, they've remained incredibly successful in their undertakings: Reynolds finally had Deadpool made (and the movie was a smashing success), and Lively dived into the deep end of business with a lifestyle website, Preserve.
Here's a few highlights from their journey that will convince you that they are, of course, one of Hollywood's coolest power couples and parents.
At The Canada State Dinner
Here they are casually strolling into, you know, the White House. Lively and Reynolds looked magnificently in love as they attended the Canada State Dinner earlier this year.
At The Angel Ball
Seriously, how cute is this photo? This snap was taken at the 2014 Angel Ball, an event to help raise money for cancer research. A pregnant Lively was glowing, and Reynolds couldn't look happier.
At the amfAR Gala
Another day, another charity gala for these two busy bees. Reynolds and Lively had eyes only for each other at the amfAR Gala this year. (Seriously, I'm starting to get annoyed by them.)
Promoting Deadpool
OK, so Reynolds and Lively could be a Hollywood power couple that's hard to relate to, but they're also super charming and likable.
At Cannes
No big deal: both Lively and Reynolds have had their films celebrated at the Cannes Film Festival. Lively told Vogue recently that Reynolds even broke the rules for Lively when they attended once:
He actually broke a Cannes rule, and snuck away from the rest of his cast and came back and picked me up so we got to walk the red carpet together. To be there at Cannes with him, thinking: 'Wow he has a film at the Cannes Film Festival - what a big deal' was so special. And then this year I had a film there myself, and standing there alongside Kristen and Jesse and Corey and Woody and presenting this film we all made together… it's a very full-circle moment.
At the Met Gala
Nothing to see here, just a beautifully well-dressed couple at the Met Gala in 2014. Two years later, and he looks at her exactly the same way.
Also At The Met Gala
Lively and Reynolds have no problem goofing around on the red carpet. It's like everywhere they go, they're accompanied by their funniest friend.
Reynolds and Lively may have made my #couplegoals standards way too high, but when I grow up, can I be part of a super-successful, can't-keep-their-hands-off-each-other power couple, too, please?