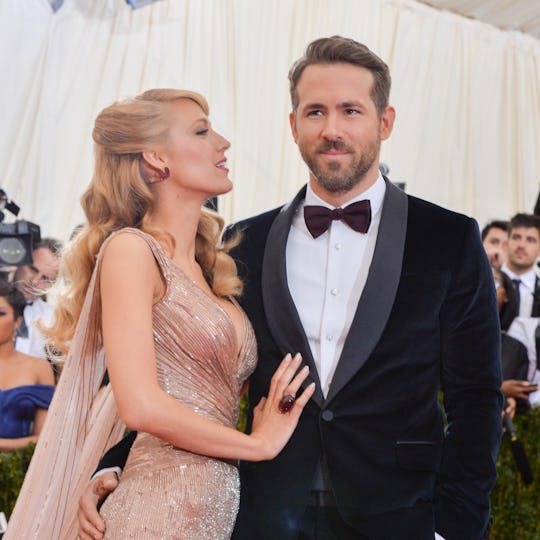 Andrew H. Walker/Getty Images Entertainment/Getty Images
Ryan Reynolds & Blake Lively Second Baby Name Predictions Draw On The Couple's Past
Ryan Reynolds and Blake Lively are one of the most perfect looking couples in Hollywood — but they're not the most open, either. Reynolds and Lively (unfortunately) lead pretty private lives, leaving a lot of details and big things in their lives up to fans interpretation. It is rare that fans get a glimpse into their marriage and family, so it is no surprise that Reynolds and Lively have not released the name of their two-month-old daughter. While it might be a while before we know her name, Ryan Reynolds and Blake Lively second baby name predictions can get fans guessing for what the name will be. While these predictions are simply just predictions, they do provide some great inspiration for fans of Reynolds and Lively.
The couple's second child was born in September according to E! News. The little one joined big sister James, who was born in December 2014, to make the family a foursome. In a recent interview with Canada's eTalk, Reynolds remained mum on the baby's name, but reassured fans that they did a good job in naming the baby. "We settled on the right one," Reynolds said. A "right name" is all subjective to the parents, but here are a few name predictions, drawing on the pasts of Reynolds and Lively, that all sound right to me.
Charlotte
Lively and Reynolds married in Charleston, South Carolina in September 2012. Their wedding ceremony was small, private, secretive (of course), and romantic. Charlotte — or Charlie for short — is a feminine take on the town they married in (Charleston means Charles Town) and the nickname fits perfectly with the androgyny of Reynolds and Lively's first born.
Bridget
The Sisterhood of the Traveling Pants was not Lively's first role in a film, but it did give Lively her "big break." Since the film's release in 2005, Lively has remained incredibly close with her cast mates in the film, making everyone super envious of their perfect friendship. What better way to pay tribute to her best friends and the movie that gave Lively her "in" to Hollywood by naming her daughter after her character in the film franchise, Bridget.
Martha
In addition to being an actress, Lively is a homemaker, much like television personality Martha Stewart. In the past, Lively has called Stewart her "idol." Martha is the perfect name to honor Lively and Stewart's relationship.
Billy
Reynold's first role was in 1991, where he played character Billy in the TV series, Fifteen. The name fits with daughter James' and is super cute.
Ernie
Sure, it is a stretch — but hear me out. Reynold's dad James C. Reynolds passed away in October 2015 — and their firstborn child, James, is presumably named after him. What better way to keep with the theme by naming baby number two Ernie — its cute and pays tribute to the relationship between Lively and her father.