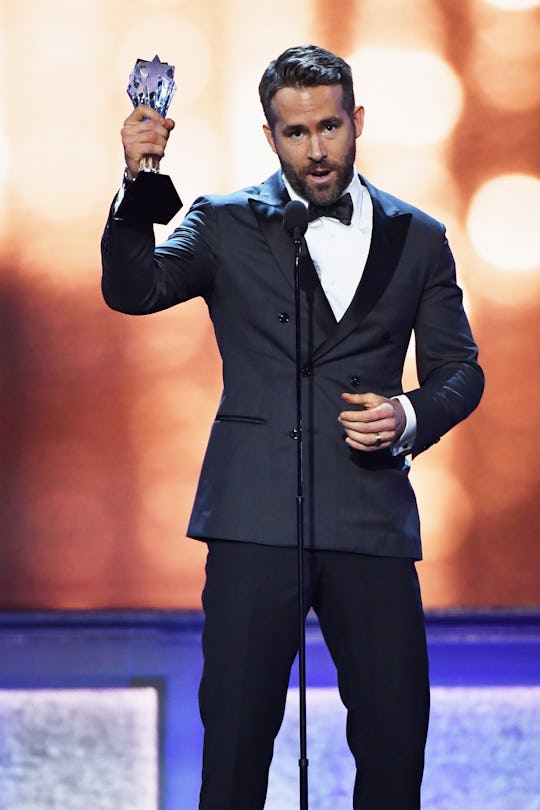 Ethan Miller/Getty Images Entertainment/Getty Images
Ryan Reynolds Dedicates Critics' Choice Win To SickKids & The Make-A-Wish Foundation
At the 22nd Annual Critics' Choice Awards, actor and general class act Ryan Reynolds dedicated his award to the SickKids Foundation and the Make-A-Wish Foundation, two organizations that help young children battle life-threatening illnesses. Stepping onto the stage to claim his Critics' Choice Entertainer of the Year award on Sunday, Reynolds explained to the audience that his character in Deadpool had resonated with many people — but one group of fans in particular had stuck with him.
"The character had cancer, and some of the people that this character resonated with were sick kids," the Green Lantern actor said. "So I would like to dedicate this honor to the Make-A-Wish Foundation and the SickKids Foundation of Toronto, two incredible organizations that do so much for so many kids in need."
Reynolds originally got to know the SickKids Foundation after he met young Grace Bowen, who had been diagnosed with osteosarcoma at age 8, at an awards show in 2014. Soon after the two met, she began receiving treatment at the SickKids Hospital in Toronto, but sadly passed away last year — a moment that stuck with Reynolds. "I was just so blown away by how brave and magical this little girl was," Reynolds told BuzzFeed. He said he had come home from the awards ceremony two years ago and told his wife, Blake Lively, "I really felt like the reason I was there was to meet Grace."
After meeting Bowen, Reynolds was inspired to meet other children with cancer, some of them through the Make-A-Wish Foundation. "Each of their journeys are so distinctly different," he told BuzzFeed, "but they all share this one common thread which is that they're usually the bravest ones in the room."
After Bowen passed away, Reynolds reached out to the SickKids Foundation and asked how he could help the organization. In late November 2016, he flew to Toronto to help the foundation shoot a video, where he was joined by Bowen's family. The SickKids Foundation released a video that starred Bowen and highlighted the foundation's life-saving work.
"Ryan's famous, Ryan's a movie star, but most of all he's a dad, he's a father," Greg Bowen, Grace's father, told BuzzFeed. "And when the cameras are off and he's at home with his feet up, he's got two little kids to love and I'm sure at some point he's put himself in our shoes."
So here's to Reynolds, for taking a comedic role in a movie and using it to help bring attention to some of the organizations that need it most. To learn more about the SickKids Foundation or the Make-A-Wish Foundation's important work, visit them online.