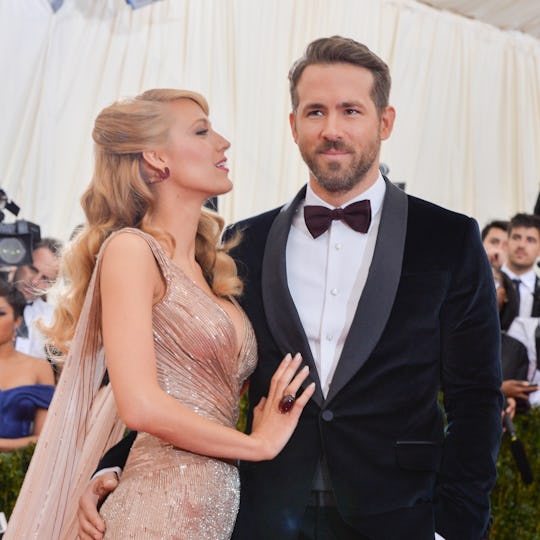 Andrew H. Walker/Getty Images Entertainment/Getty Images
Ryan Reynolds Is Keeping His Baby's Name A Secret & His Reason Makes A Lot Of Sense
Even though his life is on display as he's been People's "Sexiest Man Alive" and makes millions of hearts melt while watching any of his blockbuster romantic comedies, Ryan Reynolds is keeping his baby's name a secret and his reason makes complete sense. Back in September, it was reported that the actor's wife Blake Lively welcomed the pair's second daughter to world, but the notoriously private parents have kept quiet about their new little girl's name. And fans shouldn't expect the power couple to divulge any more details any time soon — it was almost three months after their first daughter was born before they revealed they had named her James.
But Reynolds' reason to keep those private details hush-hush actually does make a lot of sense — even if both he and Lively are insanely famous movie stars, which tends to go hand-in-and with a high level of interest and curiosity from fans.
"All that sort of stuff with kids and revealing — oh, you revealed the sex! — I didn't 'reveal' anything," Reynolds said in an interview with NBC's TODAY earlier this week. "I just don't feel the need to publish it. It's a normal feeling that most people might have."
The Deadpool actor added that the decision to share this type of information isn't one he feels he can or should make on his own, as he and the Gossip Girl alum are partners and it's a parenting decision that needs to be made together.
"The name stuff, I don't feel entitled to do that without my significant other sitting here and having some say in it," Reynolds said in the same TODAY interview. "(My children) didn't really choose this profession or this life, and they can quickly get swept up in that world."
Although his reasoning to keep some details about his new daughter to themselves for a while, fortunately for fans not everything about their bundles-of-joy is off limits. Both parents have shared some hilarious parenting moments, with Reynolds frequently tweeting out some pretty funny dad thoughts.
Here are just a few of them:
And Reynolds' sentiments about parenting being team work don't seem to only apply to revealing certain information to the media. He's also shared some spot-on advice for fellow new dads on how tackle this new chapter:
It's no lie that we're all fascinated by the glamorous lives of Hollywood stars, especially once they add little ones to their families. But, it's important to remember that celebrities still deserve their privacy even though some choose to share more information, more quickly than others.