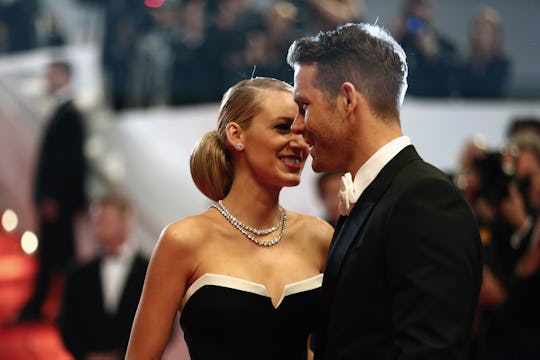 Andreas Rentz/Getty Images Entertainment/Getty Images
Ryan Reynolds Jokes That Blake Lively Is Pregnant Because He Played Lionel Richie
Since news broke in April that Blake Lively and Ryan Reynolds are expecting their second baby, fans have wondered when the couple will be welcoming their new bundle of joy. Well, Reynolds says Lively is "extraordinarily pregnant," according to People, so hopefully that means super soon. I'm sure the married couple is looking forward to their second baby's arrival.
In an interview with People, Reynolds shared his love for the outdoors, and that his very, or "extraordinarily" pregnant, wife is holding off on hiking for the time being.
I'm a big outdoorsman. My relationship with the outdoors is a long, storied one and something I value greatly. I love doing it with my family. I take my daughter with me all the time on hikes. My wife is just extraordinarily pregnant, so there's not a lot of hiking going on, which I'm told is my fault!
Perhaps Reynolds is jokingly taking the blame, so to speak, because he also told People that the couple's second pregnancy happened as the result of him playing a Lionel Richie song to set the mood one night.
"Yeah, ya know, [I] just played a little Lionel Richie, and the mood hit!" the Deadpool star said.
I mean, there is something about a Lionel Richie love song.
The superstar couple have a 20-month-old daughter named, James. And apparently, the baby girl is already active and outdoorsy. Reynolds takes James on hikes around their backyard and forests by their home in upstate New York, he told People.
And a growing family seems to have long been in the cards for the mom and dad. Lively, who starred in The Shallows, previously told Marie Claire magazine in 2014 that she would, if she could, have a "litter of kids."
"I gotta get started," she said. "If I could spit out a litter of kids, I would."
Reynolds echoed similar sentiments in an interview with the former Details magazine in 2013. "We'd love to have a big family," he said in the interview captured by E! News. "We both come from big families — my parents did four, Blake's did five. A lot of people say it's crazy, but we'll only know when we're there, you know? We'll walk through that fire pretty happily, I think."
It's clear having babies has been in the couple's minds. And they're certainly growing their family, you know, with Lively being "extraordinarily" pregnant and all. It remains to be seen exactly how big the Lively-Reynolds crew will grow, but in the meantime, best wishes to the couple on their second baby's arrival.