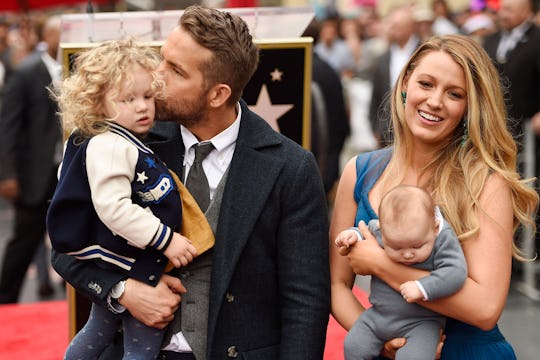 Matt Winkelmeyer/Getty Images Entertainment/Getty Images
Ryan Reynolds Has Unique Taste In Childbirth Music
Every couple has their goofy moments, but no couple is goofier than Deadpool's Ryan Reynolds and wife Blake Lively. The two actors are so cute, it's almost a little hard to handle. Recently, Lively played a game of "Fact or Fiction" for a video on Michael Kors' website. During the game, she revealed that Reynolds had played Marvin Gaye's "Let's Get It On" while she was in labor. It's a wonder that she thought it was funny and didn't kick him out of the delivery room, but maybe a little classic R&B is just what every woman needs while she's pushing a small human being out of her body.
For Reynolds and Lively, it must be love. Lively laid it out there, thinking she could trick Kors into thinking it was false. But Kors guessed correctly. "My doctor was laughing so hard that I thought she was going to drop our baby," Lively said. Awww-dorable.
It's not such a terrible idea actually to have a good jam on during such an intense moment. Reynolds is a pretty good dude for wanting to make his wife smile while going through it. Kors liked the idea, too. "That's like my favorite song, so I'm just gonna go with fact," he said.
That wasn't the only thing that Lively shared about her personal life. Aside from flaunting her and Reynolds' taste in music, the former Gossip Girl revealed that she used to have a crush on late-night host David Letterman and that her first ever smooch was on-screen when she was 16 years old. Who knew?
Lively and Reynolds definitely have an awesome dynamic. So awesome that People actually called it a "cozy family life" once upon a time. From the outside looking in on Instagram, it sure looks like it. Since marrying in 2012, they've had two children and settled into their home.
"We don't live in L.A., we live on a farm in New York," Reynolds said last year. But that suits their personalities. "I've never been the guy stumbling out of bars at three in the morning, at least that anyone is aware of. It's never been my thing," he added.
Their love is super real. Recently, Lively revealed that she replaced her Lorraine Schwartz engagement ring with a 14 karat yellow gold band that reads, "Mrs. R" in cursive. If you want to be like Lively (uh, who doesn't want her wardrobe?), the ring, designed by by jeweler Alison Lou, is semi-reasonable — you can get one for around $1,000. Not cheap, but totally crazy.
Not as crazy, say, as playing Marvin Gaye while your wife is in labor. But maybe it was a good way to set the mood for the rest of their lives together. It's a better choice than DMX or something, at least.