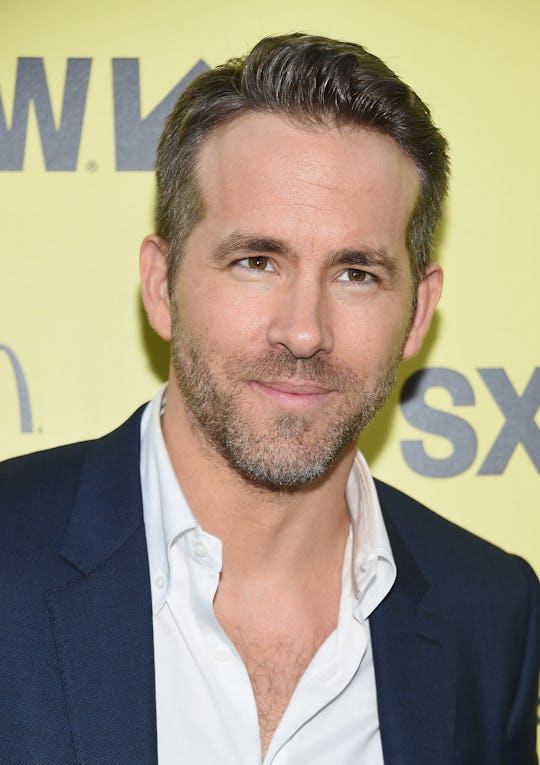 Michael Loccisano/Getty Images Entertainment/Getty Images
Ryan Reynolds' Quotes About Fatherhood Prove He's The Realest Dad On The Block
When it comes to making fatherhood funny, look no further than the king of Twitter (and, uh, pretty much everywhere else) Ryan Reynolds. After he married likewise flawless human being Blake Lively back in 2012, the couple welcomed two daughters together: James Reynolds, who was born in 2014, and Inez Reynolds, who was born in 2016. And if there was ever any doubt that the couple made a picture-perfect, downright hilarious couple of parents, these Ryan Reynolds quotes about fatherhood will set all of your doubts to rest.
Back in 2016, just hours before Lively was due to give birth to their second daughter, Reynolds told GQ that he was on the precipice of living the "real American dream." The year prior, The Daily Mail reported that Reynolds joked with David Letterman about just how much he loves his daughter: "I used to say to [Blake], 'I would take a bullet for you. I could never love anything as much as I love you.' I would say that to my wife. And the second I looked in that baby's eyes, I knew in that exact moment that if we were ever under attack, I would use my wife as a human shield to protect that baby."
As it is beyond clear that Reynolds is as devoted to his family as he is committed to making jokes about them, here are some of his most epic family man quips.
"I Would Rather Drink A Piping Hot Bowl Of Liquid Rabies Than Get On A Plane With My Two Children"
People reported that Reynolds isn't a huge fan of traveling with his tots. He told Good Morning America: "I've always had empathy for parents, especially flying. I remember before I had kids, I was always like, 'God, that's hard.' Because you can see they're sweating and they're nervous because their kids are yelling and everyone's mad at them," said Reynolds, adding, "I'm the same way." He continued:
I would rather drink a piping hot bowl of liquid rabies than get on a plane with my two children. At 2 years old they just have to rip all their clothes off and introduce themselves to everyone on the plane, it's just like, 'Please can we land in a farmer's field?'
"I Don't Have Time For Anything. I'm Amazed I Remembered Pants!"
At the end of 2016 while doing a press circuit, Reynolds told People that he's totally exhausted trying to juggle two little babies and his career, joking that it was an accomplishment just to have gotten dressed on time.
"I Watched Frozen With My Two Year Old This Morning. Despair Reveals Itself In Many Forms"
Reynolds joked on Twitter that he definitely isn't as big of a Frozen fan as his daughter James probably is.
On Our 6 AM Walk, My Daughter Asked Where The Moon Goes Each Morning. I Let Her Know It's In Heaven, Visiting Daddy's Freedom
HuffPost reported that Reynolds managed to make a super sweet father/daughter moment into a subtle drag, telling his daughter that the moon goes to heaven to visit his freedom, which he insinuates is "dead."
"I'd Walk Through Fire For My Daughter. Well, Not FIRE, Because It's Dangerous. But A Super Humid Room. But Not Too Humid, Because My Hair"
Back in 2015, Reynolds joked that he'd do anything for his kids... as long as it wasn't too dangerous... or wouldn't compromise the state of his (usually perfect) hair.
"Being A Father Is The Single Greatest Feeling On Earth. Not Including Those Wonderful Years I Spent Without A Child, Of Course"
Buzzfeed reported that though Reynolds is obviously wild about his girls, he does still miss the "good old days" now and again. Soon after his second daughter was born, he tweeted that fatherhood was the most amazing feeling that exists... that is, next to not being a father, too.