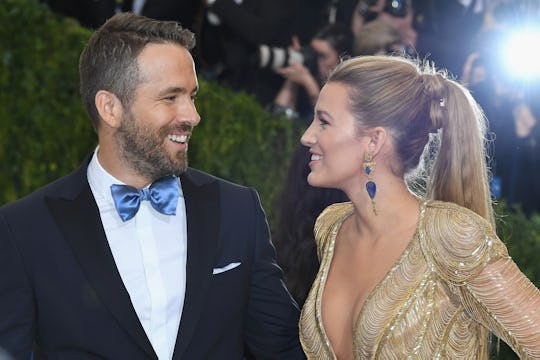 Dia Dipasupil/Getty Images Entertainment/Getty Images
Blake Lively Unfollowed Ryan Reynolds On Instagram & His Reaction Is *Exactly* What You'd Expect
Blake Lively surprised a lot of people earlier this week when she deleted all of her Instagram photos and unfollowed almost everyone she had previously. Gone were the super cute photos of her with her husband, Ryan Reynolds, or selfies of her taken from different movie sets. Instead, Lively followed a bunch of women, all named Emily Nelson. So surely some of the people she followed were surprised to wake up to find this — like Reynolds himself. And Reynolds' reaction to Lively unfollowing him on Instagram is absolutely what you would expect from the devoted (and hilarious) husband.
Reynolds wasn't too pleased with his wife's move — at least, that's what he said during an interview on Smallzy's Surgery, according to Us Weekly. And while there might have been more important things to talk about (he's currently promoting his new movie, Deadpool 2, according to Us Weekly), this was a much more pressing topic to discuss. So, what did Reynolds have to say about his wife unfollowing him on Instagram in exchange for a bunch of people named Emily Nelson?
Reynolds' response was perfect. "Definitely stings," Reynolds told Smallzy, according to Us Weekly.
Reynolds added onto this, telling Smallzy in the interview, according to Us Weekly:
It's a terrible way to find out that I've been kicked out of the house, to be honest. Absolutely terrible. I don't know where rage like that comes from.
Of course, with an anger this strong directed toward his wife for unfollowing him on Instagram — and then following a bunch of strangers — Reynolds and Lively's daughters, 3-year-old James and 1-year-old Ines, were bound to feel some tension, right? Not quite.
Reynolds told Smallzy, according to Us Weekly, that he is glad that his daughters are young enough so he doesn't have to have that "talk" with them — explaining what happens when mommy unfollows daddy on Instagram. Reynolds told Smallzy, according to Us Weekly:
That's true, yeah. "Mommy unfollowed daddy on Instagram." My child would just fart and walk away.
For Reynolds, who is known for his hilarious quips and comments about his family on Twitter, this comment about his wife unfollowing him on Instagram certainly ranks up there with some of his better ones.
But, really, there should be no love lost between Reynolds and Lively. After deleting almost every aspect of her Instagram account and leaving the cryptic words "what happened to Emily?" on her account, according to Harper's Bazaar, fans assumed that it had to do with her new film, A Simple Favor. When Lively released the trailer to her Instagram account on Wednesday, this pretty much confirmed everyone's suspicions. Lively's character in the film, after all, is named Emily Nelson. So, Reynolds was probably well aware of his wife's stunt (and the fact that she had to delete all of their super sweet photos together, too).
Fans don't really need Lively's Instagram account to get their fill of her family, anyways. Reynolds' Twitter and Instagram accounts are both still active, so you can still get your fill of some of their sweeter moments in their lives, even if the couple is firmly against having photos of their daughters out there without their permission.
Hopefully, fans won't have to wait too long for Lively to make her big return back to her normal social media activity. And while this change on Instagram might have affected her relationship with fans, the good news is, her relationship with Reynolds is as perfect as it ever was.
Check out Romper's new video series, Bearing The Motherload, where disagreeing parents from different sides of an issue sit down with a mediator and talk about how to support (and not judge) each other's parenting perspectives. New episodes air Mondays on Facebook.