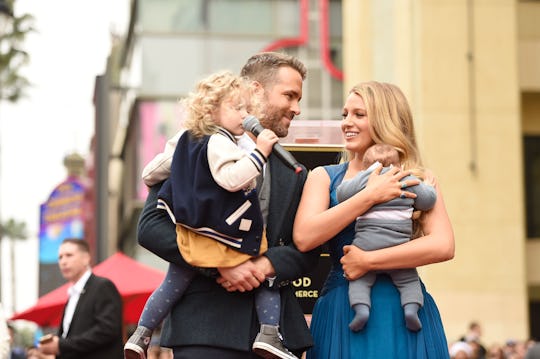 Matt Winkelmeyer/Getty Images Entertainment/Getty Images
Ryan Reynolds Gushes About Having Daughters & Our Ovaries Can't Take It
As if he and Blake weren't #parentgoals already, Ryan Reynolds reportedly wants more children. The Deadpool actor spoke with OK! Magazine recently about the joys of fatherhood and shared his love for his wife and their little ones, while also admitting that he would potentially like to have a few more babies somewhere down the line. While the number he dropped is a bit alarming, it would be incredibly exciting to see this power couple bless the world with a few more little ones.
Reynolds and Lively currently have two beautiful girls: firstborn 2-year-old James and and their youngest, 11-month-old baby Ines. The couple has kept many of the details about their two daughters under-wraps for quite some time, but Reynolds is not shying away from conversations about future children.
The Daily Mail reported that he is enjoying fatherhood and is looking forward to having more children with Lively in the future. "If I could have nine daughters I would be thrilled," Reynolds reportedly told OK! Magazine. Adding, "Really, like I genuinely would be."
This is not the first time that he has expressed his love of parenting with Lively. At the Hollywood Walk of Fame in December, for instance, the couple made their first public appearance with babies in tow for Reynolds's honoring. According to People, he gushed about her then as well:
"I want to thank my wife, Blake, who is sitting right there, who is everything to me. You are the best thing that has ever happened to me. You make everything better. You make everything in my life better. You've given me two of the most incredible children I've ever hoped to have."
The two welcomed their first daughter, James, on Dec. 16, 2014 and have been inspiring couples around the world ever since. Shortly after James arrived, Lively posted a proud-mama shot on Instagram of her breastfeeding their new baby in a bikini, captioning the photo, "The PERKS of breastfeeding."
Both parents seem to be overflowing with joy over their little family. And judging by Reynolds' comments in his recent interview, they are just getting started.
In the same interview with OK!, Reynolds shared that being a father has been the greatest part of his life so far:
There's more love, there's more diapers. There's more all that stuff, you know? [Fatherhood] is the best thing. It's the best thing that could ever happen to you.
And he's obviously loving the joke aspect of this whole dad thing as well, as evidenced by just a small sampling of tweets:
While nine children sounds like a bit of a handful for most parents, there's no doubt that these two are up to the challenge. If and when Reynolds and Lively decide to have another baby, the world will do its darnedest to wait patiently to hear what surprising name they've thought up next. Until then, keep being awesome, you two.