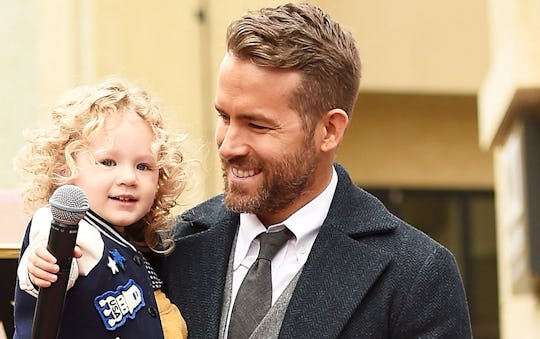 Matt Winkelmeyer/Getty Images Entertainment/Getty Images
Why Ryan Reynolds & Blake Lively Named Their Daughter James Is So Touching
Celebrities are known for giving their kids some rather unique names. When the public learned that the star of Deadpool gave his daughter a traditionally male moniker, it may have raised a few eyebrows, but Ryan Reynolds' inspiration for his daughter James' name is so sweet, you'll be kicking yourself for ever questioning his decision. Reynolds revealed in a recent interview with Mr. Porter that James was named in honor of his father, with whom he had a "complicated" relationship.
Reynolds described the elder James as "a former cop, former boxer, full-time landmine," adding, "He was good in many ways as well, but he was tough on us." Reynolds still bears the scar of his upbringing today, battling anxiety and depression, but it also propelled him towards comedy, which he first used as a means of diffusing tension.
With the encouragement of his wife, Blake Lively, Reynolds and his father reconciled shortly before the latter succumbed to Parkinson's disease in 2015, and bestowing James with her grandfather's name is a tribute to their repaired relationship. "It felt right," he explained to Mr. Porter. "All family relationships come with some complications. For better or worse, all roads lead to here. At the end of the day, it's easier to focus on the good stuff than the bad. My father died soon after my daughter was born, but he got to see her, which makes me happy."
The couple is famously private when it comes to their children. Lively hid both of pregnancies as long as she possibly could, and neither baby's birth was announced, which some might consider a refreshing departure from the perfectly staged Instagram announcements many celebs prefer nowadays, or — heaven forbid — the five-page spreads in gossip magazines. The couple didn't even reveal James' name until she was 3 months old (and it had already been leaked everywhere). Reynolds told Today's Willie Geist in 2015, "I didn't want to be the first guy screaming it out to the media. Because as we know, little girls turn into teenage girls and little teenage girls sometimes scan through the archives and go, 'Why did you do that?'"
In fact, nobody even knew exactly when James was born until a full year later, when Reynolds wished her a happy birthday on Twitter. "Happy birthday to my baby girl!" he tweeted on Dec. 16, 2015. "Sad I lost my virginity. But thankful I have a daughter." Her face was also kept from the public eye until the day before her second birthday, when the whole family showed up to watch Reynolds receive a star on the Hollywood Walk of Fame.
That was also the first time fans caught a glimpse of James' younger sister, Inez. She was just 2 months old at the time, and the couple had only revealed her sex a month prior, when Reynolds confirmed on Conan that the family had welcomed another girl. "Yeah, a lot of estrogen," he said, according to People. "It's like an American Girl doll took a sh*t on my life." It was only after the Walk of Fame appearance that Us Weekly finally broke the news of Inez's name.
Although Reynolds' parenting quotes and tweets are generally tongue-in-cheek, he did get real with Mr. Porter (if only for a moment) confessing, "I love being a dad. It's the best thing that ever happened to me." He also revealed that he wears a watch with his father and daughter's initials inscribed on the back, which he'll one day give to little James. "There are very few items that men carry throughout their lives, in terms of accessories, and a watch is one of them," he said. "That's just one of the things that I hope to some day pass on." Who knew Deadpool could be so sweet?