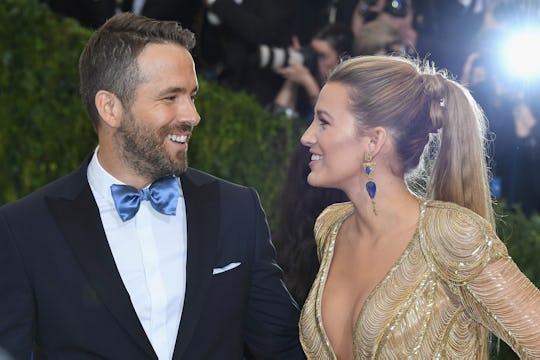 Dia Dipasupil/Getty Images Entertainment/Getty Images
Ryan Reynolds Talked To HONY About Blake Lively
Ryan Reynolds and Blake Lively are pretty much a Hollywood dream couple: they're both gorgeous and talented with successful acting careers; they are totally in love and are proud parents to two little girls; and they also just seem to be two really lovely, hilarious people who really, really like one another. But one of the best things about the couple? They aren't afraid to tell the world exactly how they feel about each other. After attending the Met Gala on Monday, Ryan Reynolds talked to Humans of New York about Blake Lively, and a photo and quote from the chat ended up on the HONY Instagram page. It definitely wasn't the first time that the Deadpool star has had us all convinced that the couple is incredibly in love, but it really doesn't seem possible that his most recent comments about Lively could get any more heartfelt.
Reynolds and Lively were one of many celeb couples to hit the Met Gala red carpet this year, and, like usual, they looked totally flawless. According to E! News, the beautiful couple were perfectly coordinated as they posed for photographers, with Lively dressed in a gold gown with a blue feather train, and Reynolds in a navy blue suit and blue bowtie. After they headed into the star-studded bash though, the couple stopped to chat and be photographed by Humans of New York's Brandon Stanton, the man behind the extremely popular photoblog. And late Monday night, the resulting post popped up on the HONY feed.
In the photo's caption, Stanton shared a quote from his discussion with Reynolds, in which the actor explained that Lively's kindness and love had changed his life. Reynolds said,
She always responds with empathy. She meets anger with empathy. She meets hate with empathy. She'll take the time to imagine what happened to a person when they were five or six years old. And she's made me a more empathetic person.
That's a pretty big compliment, and it's clear that he really appreciates that aspect of his wife's personality. But even beyond just noting it, Reynolds admitted that it was Lively's ability to live with empathy for others that helped him deal with the death of his father:
I had a very fractured relationship with my father. Before he died, she made me remember things I didn't want to remember. She made me remember the good times.
It's not often that Reynolds opens up in a serious way about painful stuff — he usually seems much more at ease sharing hilarious thoughts on social media and in interviews than talking about things like having a difficult relationship with his dad. But the HONY post was also not the first time the actor had alluded to the pain of losing his father, and the powerful influence the love of his wife had on that experience.
In December, Reynolds was honored with a star on the Hollywood Walk of Fame, and though he and Lively normally choose to keep their children out of the public eye, the moment was clearly important enough to them both that they opted to bring their kids and make it a family affair. According to Entertainment Tonight, Reynolds spoke during the ceremony about how much the honor meant to him, and of his gratitude towards Lively for her continued support.
Calling his wife "the best thing that has ever happened to [him]," Reynolds said, according to Entertainment Tonight:
You have given us two of the most incredible children I could ever hope to have. You made me the father of my dreams when I thought I only had fun uncle potential, so thank you. I love you.
And while he had similarly gushing sentiments to share about his mother and brothers, his complicated relationship with his late father was clearly also on his mind, according to Entertainment Tonight:
And the last thing I'll say before I get off this stage is a tricky one, it's about my dad. He is no longer with us, he never made things easy on anyone, especially himself, but you know he would have gotten a real kick out of this, so this is also for him.
Even though Reynolds has the kind of glamorous celebrity life that many people can only dream of having, and even though his family with Lively looks absolutely picture-perfect, his words suggest that, just like everyone else, the actor has struggled with his own fair share of pain. In fact, if there's one thing that Humans of New York has always made clear, it's that despite our differences, struggling with painful stuff is one reality that pretty much everyone can relate to.
The good news for Reynolds though, it seems, is that he's been lucky enough to find a kind of love that has helped him through those difficult times. Even though it's easy to look at a couple like Reynolds and Lively and assume that their lives must be so easy and beautiful, it sounds like the real beauty of their relationship is that, beyond it all, they just really have each other's backs. And honestly? That's much more worthy of our admiration than any gorgeous pose they strike on a red carpet.