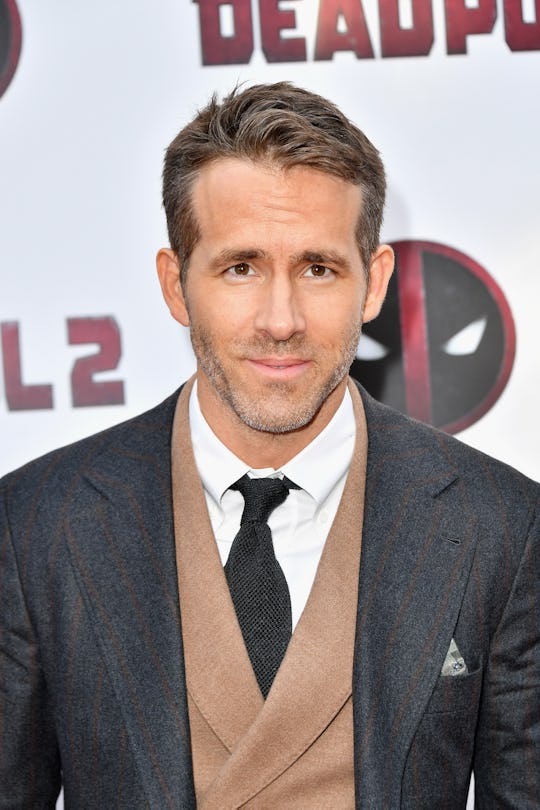 Michael Loccisano/Getty Images Entertainment/Getty Images
Parents Everywhere Will Relate To Ryan Reynolds' Hilarious Thoughts On 'Frozen'
Every kid has that one film that they will just not stop watching. When I was little, that film was Lion King, and by the time I was 6, my dad was ready to chuck that VHS tape off a bridge. It seems another dad knows the feeling well. In fact, Ryan Reynolds' hilarious rant about Frozen will speak to all of the parents of kids who won't "let it go" already.
While appearing on The Ellen DeGeneres Show, Reynolds spoke about his family's recent visit to Abu Dhabi. And along with stories about a seriously bad haircut, celebrating the holidays with Martha Stewart as a neighbor, and Thanksgiving with his family abroad, the proud dad revealed that his two young daughters can't go a single day without watching the animated film Frozen. In fact, their obsession with the movie is part of why Reynolds is so excited about the new PG-13 cut of his hit film Deadpool 2, called Once Upon A Deadpool.
When Ellen Degeneres asked Reynolds to talk about the ways in which the original film was adapted for younger audiences, he explained how it came to be. But in doing so, Reynolds went on a bit of a tangential rant about the current plague is his household: daily viewings of Frozen.
Reynolds and his team looked to make Deadpool more accessible to younger audiences, as the original film is known for being one of the few R-rated superhero movies. Because of this rating, its content is generally considered inappropriate for kids. "You know," Reynolds told DeGeneres, I get a lot of parents who come up to me and say, you know, 'Are you ever going to do a PG-13 version of Deadpool?"
He went on to explain that parents want content that they can enjoy alongside their children, and that's what Once Upon A Deadpool aims to do. In Reynolds' opinion, his new film is much more enjoyable for parents than, say, a certain animated film featuring two princess sisters and a lovable snowman:
I mean, I've seen Frozen with my daughters so, so many times. People don't know this, a lot of parents don't know this. If you play Frozen backwards, it's actually a shot for shot remake of The Exorcist. So that would obviously enrage a lot of parents. That's why I was really excited about the Deadpool 2 PG-13 cut.
Regardless of how you feel about the Deadpool films, I think every parent to young children can get on board with what Reynolds is saying about Frozen. Don't get me wrong, I love a good Disney princess and sisterhood solidarity as much as the next gal, but there's only so many times that you can hear Love is an Open Door before you're ready to throw the entire TV out an open door.
But his and Blake Lively's kids aren't the only ones to watch a movie on repeat. According to Science ABC, most kids pick something that they like to read or watch and go back to it time and again. For one thing, kids don't usually understand a movie the first time around, so they may need numerous exposures to grasp plots. And once they do understand a storyline, they enjoy it more. Hence the tendency to play things on repeat.
But there's good news! As Mom.me reported, a 2011 study conducted by Dr. Jessica Horst of the University of Sussex found that kids learn more from media with repetition. While this study looked at books in particular, Horst stated that the same is true of shows and movies. Every exposure essentially strengthens their comprehension.
So, try to look at the millionth showing of Frozen in your house as an, um, learning opportunity. Hope that helps!
This first-time mom wants to have a home birth, but is she ready? Watch how a doula supports a military mom who's determined to have a home birth in Episode One of Romper's Doula Diaries, Season Two, below. Visit Bustle Digital Group's YouTube page for the next three episodes, launching Mondays in December.