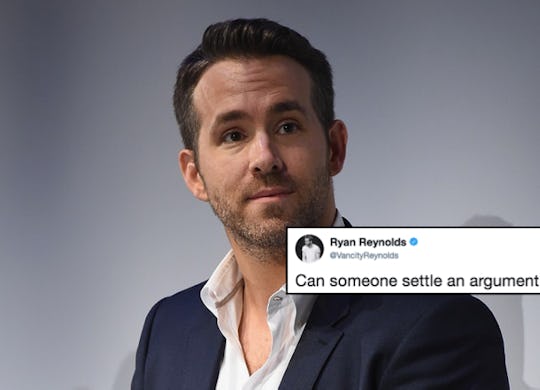 Michael Loccisano/Getty Images Entertainment/Getty Images & @VancityReynolds/ Twitter
Even Ryan Reynolds Is Dying To Know Which Kardashians Are Pregnant
Unless you've been hibernating since September (and really, who could blame you?) you're probably aware that there are a few things going on in the Kardashian-Jenner family. While sisters Kim and Khloé Kardashian have both confirmed that they're expecting, Kylie Jenner has address the pregnancy rumors surrounding. And not even one of Hollywood's finest knows what the heck is going on over in Calabasas. In fact, Ryan Reynolds' tweeted about all the Kardashian pregnancies and it perfectly summarizes what everyone has been thinking for months.
Early on Tuesday morning, Reynolds took to Twitter to ask a very, very important question. The kind of question that millions of Americans have been wondering for themselves. Yes, it's true, Reynolds has finally worked up the courage to ask, and I quote, "Can someone settle an argument between me and my priest? Which Kardashians are pregnant?"
The 41-year-old likely wasn't expecting his profound tweet to have much of an impact, but with over 130,000 likes already, it's clear that Reynolds' tweet has resonated with many. Because really, it's a totally valid question. Since it was first announced that Kim was expecting back in June, the rumors have just kept coming. And then, in September when news of Kylie's rumored pregnancy was immediately followed by the news of Khloe's, it turned into somewhat of a hectic and confusing situation.
Seriously. Since all of the initial pregnancy news broke, only two of the Kardashian-Jenner sisters have confirmed the happy news. In late September, Kim confirmed that she and husband Kanye West were expecting their third child via surrogate. Truly, for her part, Kim has been extremely open about her journey with her third baby. As fans of Keeping Up With The Kardashians know, Kim hasn't had the easiest time with her previous two pregnancies, and her decision to have a surrogate carry her third child was one made out of necessity.
In an April episode, after Kim's doctor told her that it could be a potential life or death situation if she were to carry another baby, she told sister Kourtney that she was seriously considering going the surrogate route. According to E! News, Kim explained to Kourtney:
I'm definitely leaning more towards I want to try. After talking to Kanye, I think I always knew that surrogacy was an option, but I didn't think it was that realistic of an option, and now I feel like that's my reality. I feel like surrogacy really is the only other option for me.
So, that's one sister down. But Khloe and Kylie have continued to hold out on confirming their happy news, until recently. Because Khloe finally announced her own happy news in December, after a teaser trailer for the upcoming season of Keeping Up With The Kardashians appeared to show Khloe telling her family that she was pregnant.
So then, on Dec. 20, Khloé uploaded her pregnancy announcement in the form of an Instagram post with a seriously heartwarming caption. After excitedly telling fans that she and boyfriend, Tristan Thompson were having a baby, Khloé wrote:
I had been waiting and wondering but God had a plan all along. He knew what He was doing. I simply had to trust in Him and be patient. I still at times can't believe that our love created life!
Obviously, Khloé and Kim are excited about their happy news. But Kylie has yet to say anything about the rumors surrounding her. Kylie also didn't appear in any of the family Christmas photos, further sparking the rumors that she was either pregnant, or might have even already given birth.
So just like Reynolds, fans need answers.
Reynolds' tweet was seriously on point. After all, it's been over three months since rumors of Kylie's pregnancy first broke, and she's yet to say anything. She certainly doesn't owe fans any explanation about what's going on, but it's clear that people are very invested in these rumors, even the Ryan Reynolds.
Here's to hoping that 2018 will bring about some sort of conclusion to this interesting and dramatic saga. For us and for this debate between Ryan Reynolds and his priest, of course.
Check out Romper's new video series, Romper's Doula Diaries:
Watch full episodes of Romper's Doula Diaries on Facebook Watch.