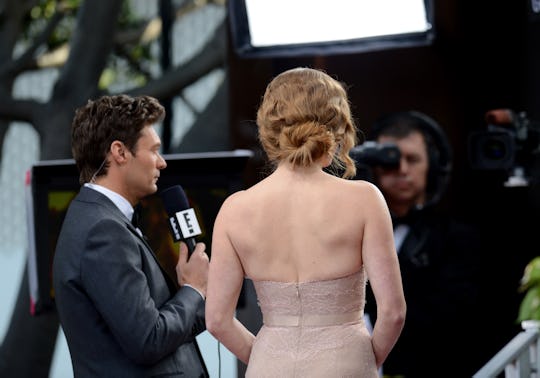 Jason Merritt/Getty Images Entertainment/Getty Images
Ryan Seacrest Still Can't #AskHerMore
The start of the 2017 award season has arrived as the entertainment industry ushered in the Golden Globe Awards. In 2016, the #AskHerMore campaign challenged reporters and entertainment commentators to asked female actors more than "who they're wearing," because no one likes their award show with a side of sexism. Sadly, Ryan Seacrest with Michelle Williams failed #AskHerMore, and in an epic way the 42-year-old producer should be somewhat embarrassed about. After all, how long does one have to be on red carpets asking celebrities endless questions in order to, you know, get it right?
#AskHerMore is part of The Representation Project, an organization with a mission to, according to its website, "inspire individuals and communities to challenge and overcome limiting stereotypes so that everyone, regardless of gender, race, class, age, sexual orientation, or circumstance, can fulfill their human potential." Last year the organization essentially called out sexist reporting, urging reporters to re-focus on women's achievements in their careers, and not just the achievement of putting on a fashion-forward dress by some big-name designer. The movement caught the attention of Reese Witherspoon, Shonda Rhimes, Gloria Steinem, Maria Shriver, Lisa Ling, and Sandra Fluke according to The Representation Project's website, solidifying not only the campaign but the obvious need for more substantial reporting and questioning of female artists and actors.
So it's safe to say that a man as well versed in the entertainment industry as Seacrest would be well aware of the #AskHerMore campaign. Still, Seacrest failed to ask Michelle Williams, who is nominated for an award for her work in Manchester By The Sea, about anything other than her dress. Seacrest's line of questioning sparked a relatively awkward exchange between Williams and Seacrest that, well, should (honestly) be anything but a surprise. After all, it's 2017. Equality, maybe?
The first question Seacrest asked Williams was about her dress, to which she responded, "Did you just ask me about my dress?" Seacrest then awkwardly chuckles, only to press the question further. After he asks again, Williams agrees to discuss whatever it is she is wearing (which is gorgeous, by the way) before she is asked to talk about, you know, anything else.
The exchange (like most everything these days) did not go unnoticed, and viewers took to Twitter to voice their displeasure with Seacrest. Here are just a few of the reactions to his #AskHerMore fail:
Arguably now more than ever it's imperative that the media invest in equal representation. One would think the simple demand that more interesting questions — rather than those regarding fashion — be automatically afforded female actors wouldn't be a necessity in 2017 but, well, here we are. So, to Seacrest (and anyone else), let's do better.