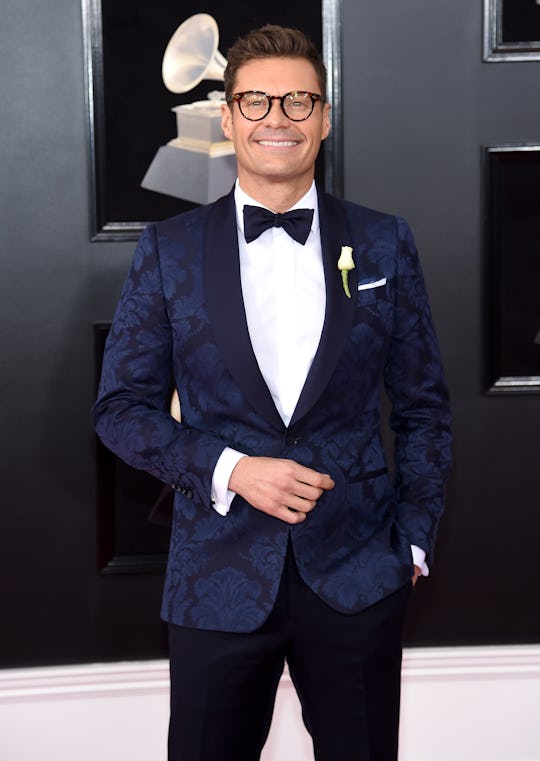 Jamie McCarthy/Getty Images Entertainment/Getty Images
Ryan Seacrest's Former Stylist Speaks Out About Alleged Sexual Assault
Just months after Ryan Seacrest's former stylist, Suzie Hardy, came forward with sexual harassment and assault allegations against the E! News host in November 2017, Hardy elaborated on her claims in an interview with Variety published on Monday. In the extensive interview, Ryan Seacrest's former stylist opened up about the allegations and how her supposed experiences have affected her personal life. Although there's a lot to dissect in the interview, here's everything that's known about Hardy's claims so far. Seacrest's legal team did not immediately respond to Romper's request for comment.
When news of Hardy's claims first broke in November, Seacrest referred to her allegations as "reckless," according to The Hollywood Reporter. Hardy, who worked for Seacrest for almost 10 years, alleged at the time that Seacrest behaved inappropriately towards her on multiple occasions, according to People. Following Hardy's initial allegations, E! News started an investigation that lasted for two months, and the network stated that there wasn't any sufficient evidence to back up Hardy's story. As for Hardy, however, she remains haunted by Seacrest's alleged actions.
In a statement to Romper about E! News' initial investigation, an E! spokesperson says, "E! has now concluded the investigation into allegations regarding Ryan Seacrest. The investigation, conducted by outside counsel, found insufficient evidence to substantiate allegations against Seacrest."
The statement added, "E! is committed to providing a safe working environment where everyone is treated with respect and dignity."
Hardy, a single mother to a daughter, was initially thrilled to be working for Seacrest. "I couldn't believe it was happening," Hardy told Variety. "I didn't have to worry anymore. I was going to get a regular paycheck every week." To make matters even more beneficial for Hardy, the job's schedule afforded her the ability to pick up her then young daughter up from school. Unfortunately, Hardy's excitement quickly dissipated after Seacrest's assistant allegedly began dropping hints that the television host was interested in her romantically.
In addition to its interview with Hardy, Variety also obtained the letter Hardy's attorney sent to E! in November. In the document, Hardy claims that by the end of her first year working for Seacrest, she was well aware that he was attracted to her on a personal level. Not only did Seacrest's assistant allegedly tell Hardy multiple times that the television personality had a "crush" on her, but she also claims Seacrest asked her to "take a nap" with him before he hosted the 2007-2008 "New Year's Rockin' Eve" special.
Hardy's alleged situation with Seacrest quickly escalated, according to the letter, after he allegedly gave her a "bear hug" while wearing nothing but his underwear. Hardy claims Seacrest would also give her excessive gifts and even told her at one point, "I just don't think you're attracted to me," according to People. To which Hardy replied, "I'm attracted to my paycheck."
But, despite Hardy claims that she let Seacrest know that she wasn't interested, he allegedly didn't stop with the harassment. Instead of leaving Hardy alone, she claims Seacrest allegedly moved on from sexual harassment to sexual assault. In 2008, Hardy claims, Seacrest grabbed her crotch, and when she pulled his hand away, he asked, "Oh my god, are you going to sue me?" A year later, Hardy alleges Seacrest smacked her butt so hard it left a visible mark, according to Vulture, and she showed documentation of this supposed injury to E! and Variety.
Things came to a dramatic head, Hardy claims, moments before the 2009 Academy Awards. While Hardy helped Seacrest get dressed at the Roosevelt Hotel in Los Angeles, he allegedly "climbed on top of her, rubbing his erection against her," according to Vox.
And in 2010, while on the set of E! News, Seacrest allegedly asked Hardy if she had yet "f*cked" her boyfriend at the time. When Hardy told Seacrest not to ask her questions like that, he allegedly grabbed her vagina, according to Newsweek.
Hardy, who said she was dealing with a lot of pressure at the time, didn't know how to handle Seacrest's alleged advances, according to HuffPost:
I didn't know how to deal with it. I really didn't. I was battling finally being in a decent financial position to breathe and be a mom, that I didn't have to be freaking out all the time, and then dealing with this infantile celebrity person who was testing me on every level and manipulating me and knew that I was in a vulnerable position.
Hardy was forced to deal with the alleged sexual harassment and assault in 2013, however, after human resources contacted her to inquire about her relationship with Seacrest. Hardy recalled of the meeting, according to USA Today:
I was very proud to say "No, I don't [have a physical relationship with Seacrest]. I never touched him, I never kissed him, I never f–ked him, nothing." But I said, "But he touched me."
Just two weeks after the meeting, Hardy was reportedly let go from her position for unclear reasons. After leaving E! News, Hardy decided to speak out about her alleged experiences thanks to the rise of the #MeToo movement in October 2017. And during E!'s investigation into her claims in November 2017, multiple employees came forward to corroborate her accounts, Variety reported. Still, E! claims the investigation didn't come up with any credible evidence to support Hardy's allegations.
A spokesperson for E! tells Romper in a statement:
E!'s investigation was extremely comprehensive and thorough. Over the course of a two month process, our outside counsel interviewed more than two dozen people regarding the allegations, including multiple separate meetings with the claimant and all firsthand witnesses that she provided. The investigator is an attorney with nearly 20 years experience and is highly regarded professionally. Any claims that question the legitimacy of this investigation are completely baseless.
As for Seacrest, he released a statement on Tuesday once again denying Hardy's claims. Seacrest stated, according to The Hollywood Reporter:
Yesterday, Variety published a salacious story that revealed the specific claims against me for the first time – even though an independent third-party investigator found insufficient evidence to support the claims. Much to my dismay, Variety didn't speak with me or bother to speak with other credible witnesses or even ask for any of the evidence that was obtained during the investigation when offered, all of which clearly challenged the veracity of the claims made against me. This person who has accused me of horrible things tried to buy her silence by asking for money on multiple occasions — I refused. I have worked extremely hard to achieve my success and I don't take my opportunities for granted. I don't want to accuse anyone of not telling the truth but in this case, I have no choice but to again deny the claims against me, remind people that I was recused of any wrongdoing, and put the matter to rest.
Of course, there will be people out there who will ask why didn't Hardy come forward with her claims sooner. For Hardy, the answer is a complex and difficult one. Hardy explained, according to Variety:
I came from a freelance life, and it was scary. It was hard to raise a child and not know where your next check was going to come from, and if that gig was going to take me out of town for two weeks. It was a better deal all the way around, even if I was being abused. It's sick to say, but it was true.
At this time, Seacrest will still host the red carpet pre-show on behalf of E! at the Oscars on Sunday, according to CNN.