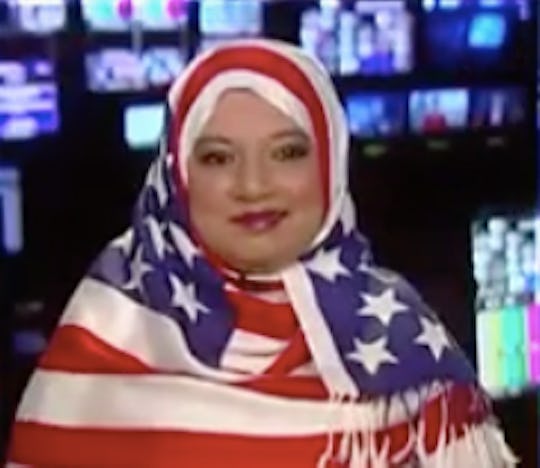 Fox News/YouTube
Saba Ahmed's American Flag Hijab Just Sent A Simple, Yet Powerful Message About Religious Intolerance
On Tuesday, November 17, Fox News addressed the "elephant in the room," i.e. Trump's most recent comments regarding the Paris terrorist attacks. While I'll spare you the painful details, here's what you need to know: Trump believes we have "absolutely no choice" but to close mosques in order to stop extremist activity. (Oh boy; this one was so ludicrous, even Fox had to address it.) And so last night, news anchor Megyn Kelly, Trump spokeswoman Katrina Pearson, and Saba Ahmed, the president and founder of the Republican Muslim Coalition, sat down to address his remarks. While the discussion was imperative, and incredible points were made, it is Ahmed's choice of apparel — an American-flag hijab — that is resonating with many.
Why? Because without saying a single word Ahmed made a major statement. Without uttering a single sound she spoke volumes. You see, the short interview consisted of a lot of noise from Pearson. She tried to defend Trump's statement by listing examples of individuals who had plotted terrorists attacks and had belonged to American mosques. She implied something about safety and the greater good, Ahmed new this was coming. Ahmed was ready (hence the carefully chosen hijab) and when she got a chance to speak was quick to interject:
Megyn, we go to the mosque to pray. You wouldn't shut down churches because there were one or two Christians acting badly.
While the segment was brief, and Pearson had a lot (of nothing) to say, her words aren't the ones we will remember from this short segment. It is Ahmed's face and image that carries on because that hijab — that traditional piece of Muslim apparel — showed what many Muslim American's have been trying to express: love of religion does not exclude one from loving their country. The two aren't exclusive, and one doesn't negate the other. Period.
Image: Fox News/YouTube