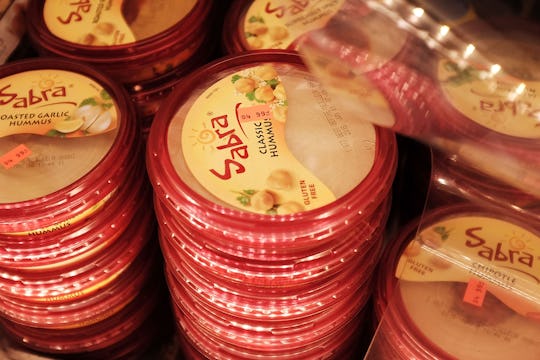 Spencer Platt/Getty Images News/Getty Images
Sabra Hummus Recalled Over Listeria Scare, But Other Products Are Safe
Hummus lovers will want to head to their refrigerators immediately — not because a delicious blend of pureed chickpeas and seasonings awaits them, but because they might want to actually throw that hummus away. This week, Sabra recalled its hummus products over listeria concerns. Thankfully for brand loyalists, the company's other delicious products are safe.
Some of Sabra's hummus products and spreads are being voluntarily recalled due to a possible listeria contamination, according to CNN. Yikes. No one wants to get sick, especially from their hummus. So this is what people with Sabra Hummus in their refrigerator have to do — head to the fridge, pick up the hummus, and check it's "Best Before" date on the lid of the container. Consumers should discard any Sabra Hummus product with any date listed from now through Jan. 23, 2017, according to CNN. The recall should not be taken lightly as the product list is pretty extensive and a listeria outbreak has the potential to get people quite sick. Listeria is not something to joke about. It will be a sad occasion to throw all of that delicious goodness away — but there is some good news — Sabra is offering a reimbursement for the recall.
Sabra has recalled dozens of flavors of its hummus that come in a variety of sizes — from classic to garlic to red pepper. It is important to note that Sabra Organic Hummus is not included in this recall. It is imperative that Sabra consumers check the list before further consuming any of the hummus in their refrigerators. The full list of recalled hummus products can be found here.
The recall was made after Listeria monocytogenes were identified in the manufacturing facility — however, according to the FDA, listeria was not tested for in the finished hummus product. This means that listeria might not be in the recalled hummus, but its better to be safe than sorry. That is because listeria isn't too nice — according to the FDA, listeria can cause "fatal infections in young children, frail or elderly people, and others with weakened immune systems." Those who are healthy can experience short term symptoms, such as high fever, headaches, and nausea among others. Pregnant women are also at an extreme health risk if exposed to listeria.
So what products are safe to consume for Sabra brand loyalists? Luckily there are quite a few. Sabra salsa, guacamole, greek yogurt dips and organic hummus should be safe to consume, according to Sabra. While its hummus might not be okay to eat for now, Sabra makes plenty of products to consume instead.