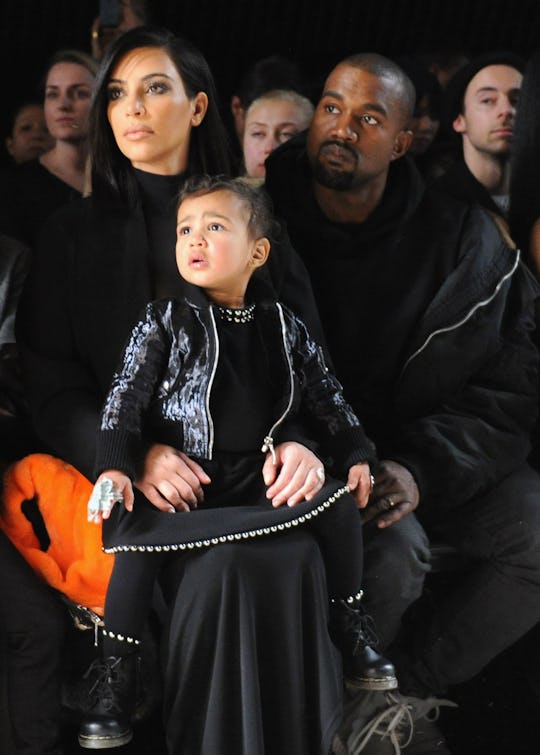 Craig Barritt/Getty Images Entertainment/Getty Images
Saint West's Yeezys Are Cooler Than Yours
Maybe it's just me, but does anyone else find themselves oddly jealous of way too many celebrity kids? Seriously, from Luna Legend's awesome birthday party last week, to Blue Ivy's front-row seat at the Grammys, celebrity children lead truly enchanting lives. Whether it be their awesome toys, perfectly-balanced diets, or swoon-worthy vacations, celeb babies and kids are basically the American version of princes and princesses. And when your parents are Kim Kardashian and Kanye West, the royalty gene is practically doubled. So, the fact that Saint West debuted his own custom baby Yeezys, in a color unavailable to everyone else no less, isn't too shocking — even less surprising? Everyone is now impatient for their release — though that may not ever happen.
According to a Snapchat photo shared by Kardashian on Friday, little Saint West, just 15 months old, was seen rocking a pair of dad Kanye West's latest shoe design. A design that, according to Sole Collector, isn't expected to debut until June. So in short, yes, this baby is cooler than you, and yes, you're going to want a pair of these kicks as well, as soon as you see how good they look on little Saint. But don't take my word for it, take a look at the sneaker design, and Saint's perfect little baby feet, for yourself here:
While the shoes will be available for adults in June in the color Saint is wearing, reports indicate that kids sizes in that color won't be available, meaning Saint (and probably big sister North) will be the only kids in the world rocking those particular pair of Yeezys. Which really isn't too surprising.
Saint and North, 3, have definitely been showered with love since they were born. Understandable, too, as Kardashian long struggled with fertility issues before getting pregnant with North, and both of her pregnancies were described as high-risk.
In recent episodes of Keeping Up With The Kardashians, Kardashian has also revealed that she really wants to have another baby, something her doctors and family have expressed concern about.
However, for now, fans are left with Kardashian's pictures, posts, and updates about her current children, which include ample reason to be completely jealous of a baby. So, don't feel bad that you're turning green over Saint West's latest shoe game, you're likely not alone.