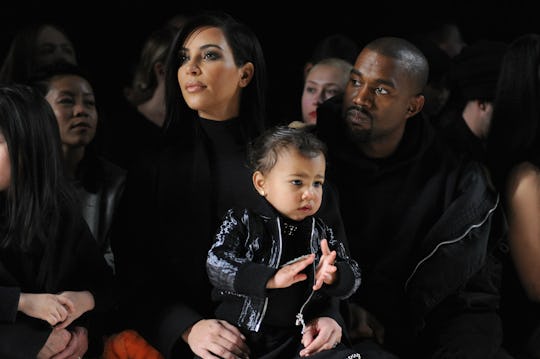 Craig Barritt/Getty Images Entertainment/Getty Images
Saint West Travels To Cuba With His Family For His First Adorable Public Appearance
Where in the world is Saint West? Kim Kardashian and Kanye West's second child, Saint West, has been noticeably absent from the public eye. Kim and Kanye have not brought him out with them to be photographed since the little boy was born. Well, he is not in the United States because Saint West travels to Cuba with his family for his first public appearance. And the wait was worth it because that little boy is absolutely adorable.
Saint West is only five months old, but he has never made an appearance in public since his birth. Kim has only posted one photo three months after Saint's birth in February of the sleeping baby — but other than that, he hasn't been pictured. His two year old sister North, however, has been spotted around town with her family members.
In the photo captured by photographers Saint, wearing a white t-shirt and matching leggings, is held by his doting father. The wait to see a photo of Saint in public was worth it because he is so, so, cute.
Given both Saint and Kanye's expressions, they look exactly alike. With not much hair on his head and a sullen expression on his face, the picture of Saint shows that the wait to see him was worth it — except we had to wait until the Kardashian-West's traveled to Cuba to do so.
So why is Saint West (and the rest of his family) in Cuba, you might ask? Well, the part of the Kardashian clan has been visiting Cuba this past week. Kourtney, Kim (and her family), and Khloe were spotted landing in Havana, Cuba on Wednesday. Since then, they have been spotted in various places around Havana. According to Entertainment Tonight, the Kardashian crew is rumored to be shooting scenes in the country for the upcoming 13th season of their reality show, Keeping Up With The Kardashians.
But, according to CNN, Cuba "couldn't care less about the Kardashians." Allegedly, as the Kardashians walked through their hotel lobby surrounded by their body guards, locals did not look twice at the three women, who are "virtually unknown" in Cuba. Khloe also posted a picture of herself posing under the words "Fidel" to her Instagram account, which drew up some controversy and some commentary from several Florida senators.
And while the Kardashians were able to travel to Cuba, there are many people who still can't go. In 2014, the relationship between the United States and Cuba was restored after Americans had not been able to travel there for 50 years. However, tourism is outlawed there so Americans can travel to Cuba as long as it is an "educational journey." But traveling to Cuba is pricey, too. Visiting Cuba for one week could cost anywhere from $2,500 to $3,500 per person.
While there is no word on what educational purposes the Kardashian's trip to Cuba will serve, it did serve one good purpose. The trip has brought us more pictures of Saint West, which is a good enough reason for me.