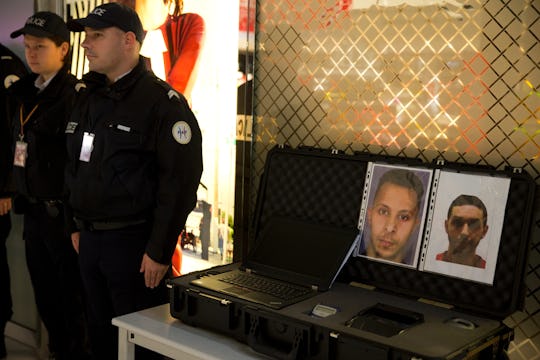 KENZO TRIBOUILLARD/AFP/Getty Images
Salah Abdeslam Officially Charged For His Participation In Terrorist Murder
After being apprehended in Brussels on Friday, Salah Abdeslam has been officially charged for participation in terrorist murder in the November 2015 Paris attacks. According to reports, Abdeslam has confirmed his identity but it is still unknown if he will be extradited anytime soon. Abdeslam was shot in the leg during his capture in Molenbeek but has reportedly left the hospital, according to a tweet from Brussels' mayor Yvan Mayeur. He wrote, according to NBC News, "The two suspected terrorists have left [the hospital] ... Well done and thank you to all the personnel at the hospital and all the police force."
Abdelslam was captured and charged along with another of the alleged terrorists, Monir Ahmed Alaaj. Three members of the family who were hiding the two men were also charged with "hiding criminals," but are not currently in custody. Abdeslam will now be questioned by the police, and although France had previously stated that they will be seeking extradition, Abdeslam's lawyer Sven Mary told reporters on Saturday that he will fight extradition. Mary said that his client is "cooperating with Belgian authorities."
That might not fly with French President Francois Hollande, who expected to have the suspects stand trial in France "as soon as possible." Hollande said that the suspects should be interrogated and judged in France.
Abdeslam is a French national and subject to an arrest warrant issued by France, so although his lawyer has said that they'll fight the extradition process, it's likely that he will be transferred to France in the coming days. If convicted, the supposed terrorist would likely go to jail, though both France and Brussels have abolished the death penalty. In 2013, the average sentence for terrorists in France was seven years, according to ProPublica. But given the total death count of the November 13 attacks, it seems likely Abdeslam and his alleged co-conspirators could serve longer sentences. Abdeslam was the last of the November 13 suspects to be apprehended after an 120-day manhunt, although both Belgian and French authorities admit that there could be more still out there.
Since Abdleslam's capture, Interpol has issued warnings for tightened security at European borders. They are advising that authorities be on the lookout for stolen passports, since the November 13 attackers were all traveling with stolen or falsified documents. Now that Abdeslam has been released from the hospital and interrogations can begin, more information about the attacks and how they were carried out is likely to be made available soon.