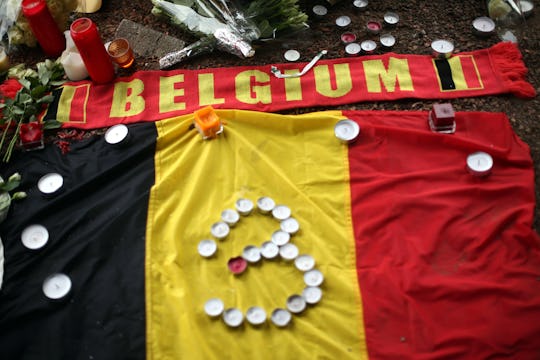 Carl Court/Getty Images News/Getty Images
Salah Abdeslam's Childhood In Brussels Proves That Religion Had Little To Do With His Radicalization
Salah Abdeslam was launched to notoriety following the attacks on Paris in November. He was the most wanted suspect, and it wasn't until Friday that he was found and arrested by police in Belgium — just days before the terrorist attacks in Brussels. Since then, more and more information about his past has become public; most notably, information about Abdeslam's childhood in Brussels.
Abdeslam was apprehended in Molenbeek, Brussels, Belgium an area allegedly known for its terrorist connections, according to the BBC. His role on the team that carried out the Paris attacks was, reportedly, handling its logistics, and he is the only member of that team who is still alive. According to The Atlantic, unlike many of those he collaborated with, Abdeslam was new to radical jihadism. He was from an immigrant family, and his childhood interests do not betray any sort of predilection for extremism (though, why would they?). According to The Washington Post, he liked soccer and video games.
Though he lived and grew up in Brussels, Abdeslam had French citizenship. He even seemed to have very little involvement or even interest in religion prior to joining ISIS. But how did that happen? It's now believed that his connection to a childhood friend is what catalyzed his radicalization. He grew up with a boy named Abdelhamid Abaaoud, who would travel to Syria to join ISIS, and who would return and plan the terrorist attacks on Paris that killed 130 people.
But, before all that, Abdeslam was a mechanic. He worked for the Brussels tram system, but, according to ABC News, he was fired because his missed work too often. His resume goes on. According to The Wall Street Journal, Abdeslam and his brother Brahim managed a Brussels bar called Les Beguines. It wasn't exactly a family place, nor was it a swanky one. They sold that bar mere weeks before the attacks on Paris. While the reason then seemed to be noise complaints and a marijuana possession charge, it now seems more likely they sold it to join their friend Abaaoud, who had returned to Europe with the purpose of carrying out his terrorist plot.
Abdeslam had no minor role in that plot. He rented cars, bought detonators, and acted as an on-scene logistician. He escaped through the border between France and Belgium, and after that, officials lost the scent, believing that perhaps he was in Syria. When they found the trail again, it led right back to his childhood home of Brussels. Already, he has claimed that he knew nothing about the recent attacks in Brussels and their organizers. It will be interesting to see what insight his capture (he was shot, but captured alive) will provide for those investigating terrorist cells, their mission, and their leadership.