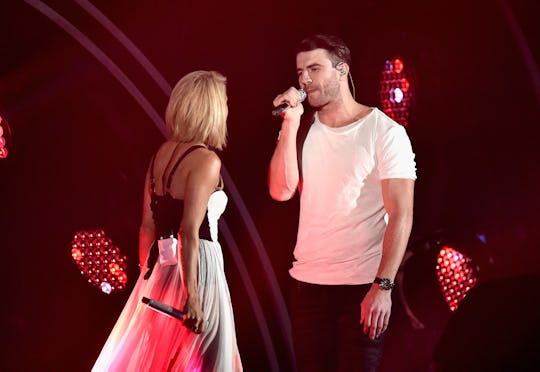 Kevork Djansezian/Getty Images Entertainment
Sam Hunt's Eye Contact Is Intense, & The Internet Has Feelings About It
During his duet with Carrie Underwood at the 2016 Grammys, Sam Hunt's eye contact got almost as much attention as the music itself. The guy clearly knows how to take serenading to the next level — and people reacting online weren't really sure what to make of it. Many people who don't typically listen to country music also didn't know what to make of the hunky Hunt.
Hunt, who was nominated for Best New Artist at the 58th Grammy Awards, performed his song "Take Your Time" with Underwood with a bit of her "Heartbeat" mixed in. The duet was great and everything, but most people couldn't take their eyes off Hunt's eyes, which stayed trained on Underwood as if, as the expression goes, they were glued to her. We're talking deep, soulful eye contact. Was something actually maybe wrong with Carrie Underwood's makeup, or maybe her contact lenses? Eye contact. Eye contact that could almost be called staring, except not because staring is rude, and no man that beautiful could be so rude, right? Here's Twitter to explain the complicated situation:
Although his eyes were very intently fixed on her, most people viewing at home seemed unable to take their eyes off him.
There must be something hypnotizing about those eyes, because it sounds like Sam Hunt converted a few people to the country music fandom tonight.