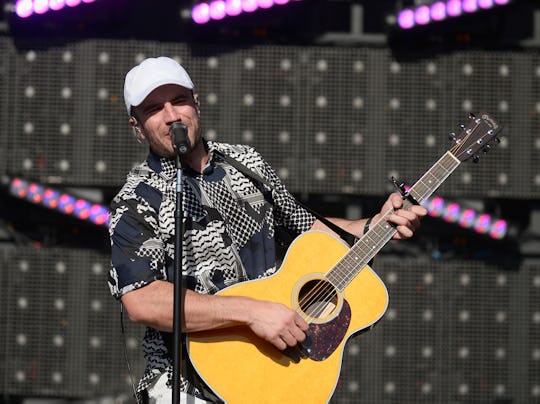 Bryan Steffy/Getty Images Entertainment/Getty Images
Sam Hunt's Hat At The ACM Awards Got Almost As Much Attention As His Performance
Country singer Sam Hunt and his white baseball cap took the stage at the ACM Awards on Sunday night to sing "Make You Miss Me," and his look definitely got a lot of attention. Actually, Sam Hunt's hat at the ACM Awards got almost as much attention on Twitter as his performance did. People loved his singing, but his hat didn't get quite as much love.
Hunt wore an all-white outfit and a curved bill hat to take the stage, where he played the piano and belted out his fifth single from Montevallo, his debut album. At this year's ACM Awards, Hunt was nominated for Album of the Year (for Montevallo) and Single Record of the Year (for "Take Your Time"), according to Us Weekly. Those awards ended up going to Chris Stapleton and Thomas Rhett, but for a new artist on the scene, the nominations alone were pretty impressive.
While fans loved Hunt's newest song and had great things to say about his live performance of "Make You Miss Me," they were less keen on his outfit. (Twitter can be kind of harsh, folks.) Here's what a few of his fans had to say about his outfit... or more specifically, his hat:
Whether or not you liked his hat choice at the ACM Awards, it's hard to argue with Hunt's recent success. The country singer actually started out as a University of Alabama quarterback, and spent some time after university as a Kansas City Chiefs free agent, according to Rolling Stone. Instead of going into professional football, however, he found himself more interested in songwriting. After moving to Nashville, he slowly started to break into the scene — and now, Montevallo is proving to be quite the success.
Some have called Sam Hunt's brand of country music "bro country," but it's not a term Hunt likes being labeled with. "I haven't endorsed that term for my music at all," he told Rolling Stone in 2014. "And I don't consider myself a 'bro.'" During that same interview, he also said:
I don't like the idea that in music, clothes, taste or anything, we are limited to a certain style, because we need to maintain an identity, maybe between some subculture group. Hopefully all those walls break down, and music is just music.
I like his take on fashion and identity. Just because he was wearing a cap doesn't mean he's singing "bro country," and it certainly doesn't take away from the awesome performance he gave at the ACM Awards.