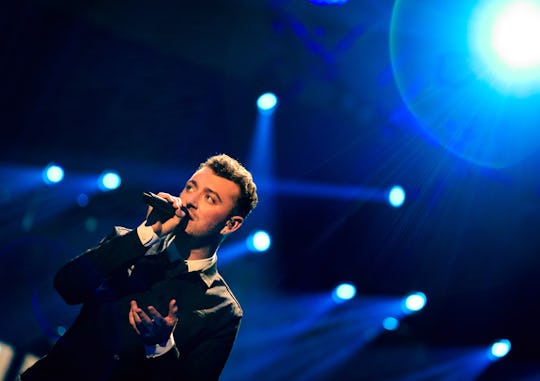 Christopher Polk/Getty Images
Sam Smith Debuts "Saddest Song Yet" — & Here's A Ranking Of All His Tear-Inducing Ballads So Far
Even Sam Smith thinks his new song should come with a warning. But more like a you-better-get-the-tissues-ready kinda warning. Smith debuted "Drowning Shadows" today on Beats 1, and to say it's a strong addition to his canon of tearful tunes might be an understatement. As Smith himself said to Beats 1 host Zane Lowe this morning, "Brace yourself: this is going to be really depressing, okay?" (Oh man guys, aren't you psyched for all the depression and crying into your pillow that's about to ensue?)
The song's debut precedes the November 6 release of In the Lonely Hour: Drowning Shadows Edition, a two-disc re-releasing of his 2014 hit In The Lonely Hour, which sold nine million copies, according to the Rap Up. The lyrics focus on reaching a crossroads when Smith took a taxi home from the studio. "There was like a crossroads and one road would lead to gay clubs I used to go out to, and then the other road would go home," Smith told Lowe. "And I was in such a lonely, sad place when I was writing this album that sometimes I would literally, just, I'd have to choose." 
Over the past three years, Sam Smith has masterfully crooned his way into a corner of our hearts (and also, it would seem, onto everyone's breakup playlist). So much so that it's kinda hard to rank his songs according to the saddest. But somehow, I managed. Here are his five most tear-inducing ballads, ranked by how much they each made me want to curl up into a ball and weep.
5. Leave Your Lover
"Leave Your Lover" delves into the subtle hopelessness of unrequited love — something we've all experienced at least once in our lives. (Whatup, all of high school.) It's like a darker version of Taylor Swift's "You Belong With Me." And if that alone doesn't define its awesomeness, I don't know what will.
4. Stay With Me
"Stay With Me" is the Sam Smith song everybody knows (and loves). Is it super melancholy? Sure. But the lyrics give us hope that love will win out, so we don't completely cave into despair while belting it out in our cars. 
3. Have Yourself A Merry Little Christmas
Feeling moody under the mistletoe? When this cover of "Have Yourself a Merry Little Christmas" debuted in December 2014, The Huffington Post headline read: "Sam Smith Just Made The World's Saddest Christmas Song Even Sadder." Now that's depressing.
2. I'm Not The Only One
Broken relationship, broken trust, broken heart: Sam Smith gets all of it. 
Lay Me Down
A sampling of its lyrics: You told me not to cry when you were gone / but the feeling's overwhelming, it's much too strong. Yep, that'll officially graduate you from graceful weeping to all-out sobbing.
If all that just got you good and depressed, I am right there with you. (But come on, you know you'r going to play "Drowning Shadows" like a ga-zillion from now to eternity, so hey, it can't be all that bad.)
Images: Christopher Polk/Getty Images