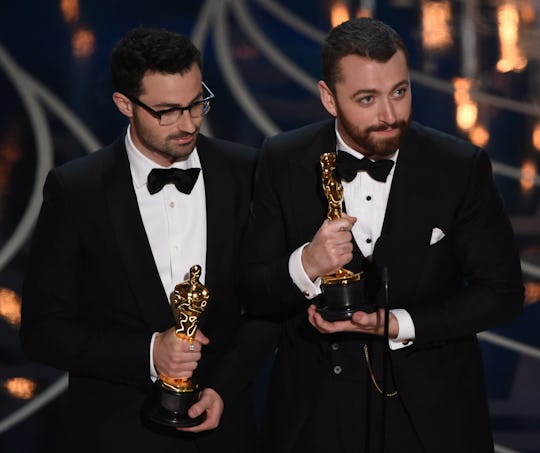 MARK RALSTON/AFP/Getty Images
Sam Smith Said A Gay Man Has Never Won An Oscar, But Is That Correct?
Sam Smith's song "Writing On The Wall" won a 2016 Academy Award for Best Original Song on Sunday night, but his words to the audience are what really had people talking. In Sam Smith's acceptance speech, he said that no openly gay man had ever won an Oscar before that night. But it turns out that's not exactly true, as multiple Twitter users were quick to point out. Sadly, the number isn't very high — there have been fewer than a dozen openly gay Oscar winners, according to HotFix.com — but the list includes quite a few important names, as Smith probably should have remembered.
Smith's and Napes' song, the theme song from Spectre, the latest movie in the James Bond franchise, was up against several other serious contenders, including Lady Gaga's "Til It Happens To You." Smith and Nape beat frontrunner Gaga for the top honor, and Smith used his time in the spotlight to dedicate his award to the LGBT community and call out underrepresentation of queer actors in Hollywood, saying that he might be the first openly gay man to win an Academy nod:
If this is the case, even if this isn't the case, I want to dedicate this to the LGBT community all around the world. I stand here as a proud gay man and I hope we can all stand here together as equals one day.
But, as touching as Smith's sentiment was, it wasn't entirely accurate. Screenwriter Dustin Lance Black won an Oscar in 2009 for his screenplay for hit film Milk. And, several gay musical performers have taken home Oscar trophies for Best Original Song, including Elton John, Melissa Etheridge, and Stephen Sondheim.
But, the overall number of recognized queer performers isn't nearly high enough, as Oscar-winning actor (and openly gay man) Ian McKellan eluded to in an interview with Sky News. McKellan aired his disappointment that no gay man had won for Best Actor, though several straight artists have been recognized by the Academy for portraying gay characters:
No openly gay man has ever won the Oscar; I wonder if that is prejudice or chance. What about giving me one for playing a straight man?
It was an embarrassing moment for Smith, but his intended point is well taken.