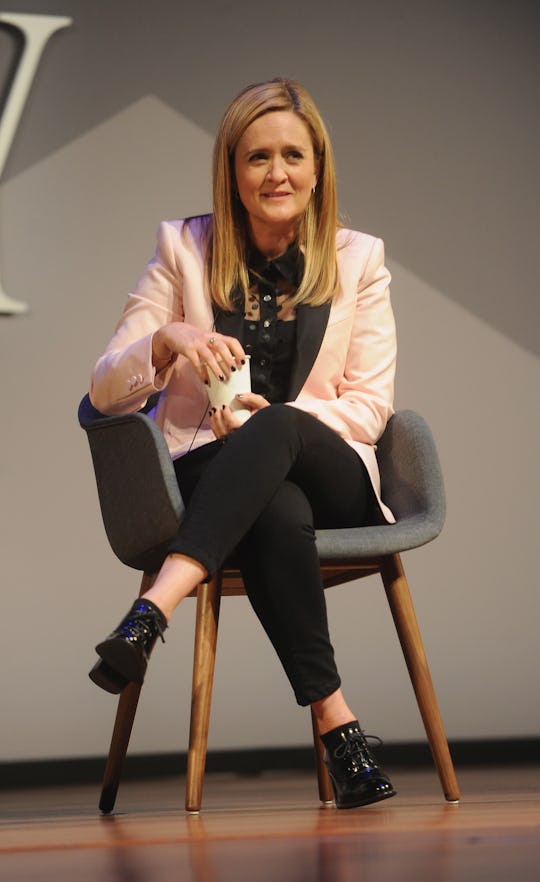 Brad Barket/Getty Images Entertainment/Getty Images
Samantha Bee Outlines Hillary Clinton's Past & Her Struggle To Remain Authentic
The 2016 Presidential Election is one of the most important in recent history and one of the most contentious. It's an election of extremes, pitting the one person least qualified to take on the position of President of the United States against someone who is among the most qualified. Despite the fact that Hillary Rodham Clinton has the experience and intelligence to be president, a narrative has been built over the course of the election season that she is merely the lesser of two evils. The idea that Clinton is somehow inauthentic – and untrustworthy for that reason – is one that has been foisted on her over decades in the public eye. Samantha Been outlined Hillary Clinton's past beautifully on Full Frontal, proving that this narrative attached to Clinton is an unfair one.
Bee first bemoaned the fact that no one has even gotten a chance to truly enjoy the fact that a woman is so close to the presidency because of the very real fear that Trump could win the election, despite his bullying antics and offensive statements. One of the alleged pros cited again and again by Trump supporters is that he "tells it like it is," whereas Clinton is both unlikeable and a liar. Of course, men are allowed to be unlikeable but still demand respect; the same is rarely, if ever, true for women.
Bee begins by delving into Clinton's early adulthood, when she was chosen as the first student to give a commencement speech at Wellesley and was cited as the "voice of her generation." She graduated from Yale Law School as one of only twenty-seven women out of two hundred and thirty five students. But after failing the D.C. Bar Exam but passing the Arkansas one, Clinton took it as a sign to move to Arkansas and marry Bill Clinton. This is when the pressure on her to conform to more traditional gender roles began.
She offended people for ridiculous reasons: not looking the part and not changing her name when she got married. She was blamed for her husband's mistakes during his time holding public office. Clinton changed her name and her style to become more palatable, but the public wasn't satisfied by that either. Bee summed it perfectly when she said, "Hillary Clinton has spent the past forty years learning to mask her authenticity."
Now everyone is clamoring for her to be authentic, ignoring the fact that that's difficult to do after decades of trying to appease everyone – and that many people don't even believe her when she tries.