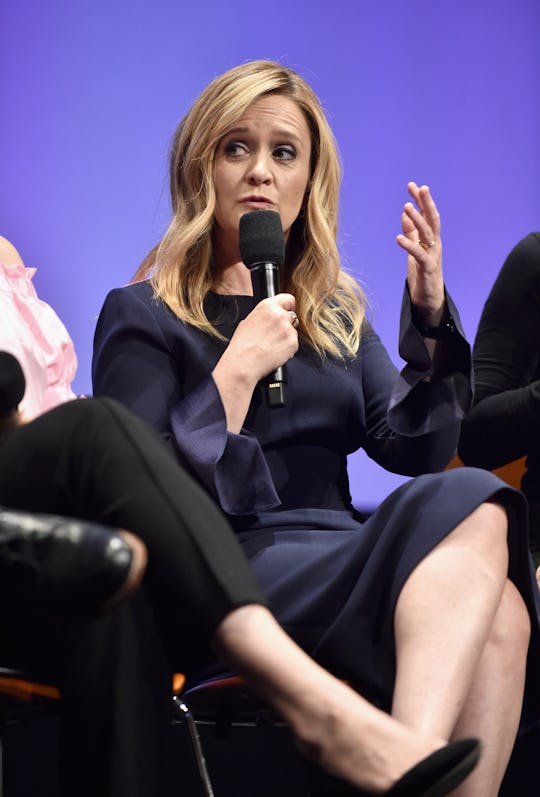 Emma McIntyre/Getty Images Entertainment/Getty Images
Samantha Bee's Emmy Nod For 'Full Frontal' Is Extremely Important
Full Frontal With Samantha Bee earned a couple of nods at the 2017 Emmy Awards when nominations were announced on Thursday, July 13. And Samantha Bee's Emmy nomination for Full Frontal is important for a big reason. While the series got an expected nod in the category Outstanding Writing For A Variety Series, which it was nominated for but did not win in 2016, it was also nominated in two other categories as well. One was Outstanding Writing For A Variety Special for Full Frontal With Samantha Bee Presents Not The Whitehouse Correspondents' Dinner, but the other was for Best Variety Talk Series.
That's significant because Samantha Bee is the first woman to be nominated in that category — ever. The award itself has only existed since 2015 and Full Frontal didn't premiere until 2016, so it hadn't really had much of a shot of being considered before. However, it's telling that the late night market is so saturated with male hosts that only men have been nominated before. The Daily Show With Jon Stewart was the first show to score the win, with Last Week Tonight With John Oliver following in 2016. Many of the male-hosted shows in the category have seen repeat noms even with the award existing for such a short time, but they couldn't find a woman to nominate before now.
The Emmy Awards had been criticized for excluding Full Frontal before, especially when last year's snub came shortly after a Vanity Fair spread devoted to late night hosts that didn't feature a single woman. Samantha Bee's show had been popular since its premiere, especially following her success as a correspondent on The Daily Show, so being left out of the Best Variety Talk Series category last year seemed noteworthy — especially since even Comedians in Cars Getting Coffee scored a nomination.
It's been an issue for years that late night talk shows are so dominated by male hosts, and that they seem to get so many of the accolades despite the existence of shows hosted by women. This seems especially true in recent years. Best Variety Talk Series, as a category, grew out of Outstanding Variety Series, which had been awarded since early on in Emmy Awards history. While in the earliest years — from the 1950s onwards — there were many nods to female-led shows like The Judy Garland Show and The Carol Burnett Show (among others), in the last decade or more it's been the same group of men being honored again and again. The narrowing down of the category seems to have led to the exclusion of more women.
Samantha Bee's nomination for Full Frontal is definitely deserved, but here's hoping there is more even more variety in this category in the future.