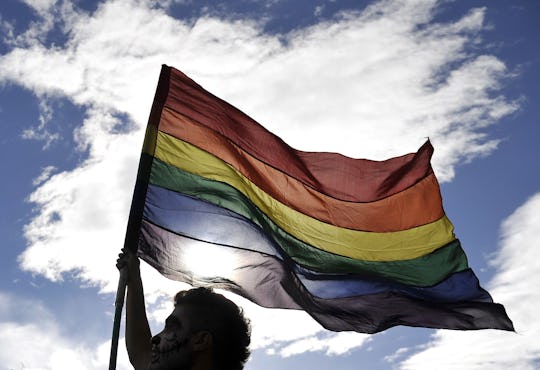 GUILLERMO LEGARIA/AFP/Getty Images
Same-Sex Couples Can Adopt Children In All U.S. States, Federal Judge Rules
A federal judge in Mississippi on Thursday blocked a ban against same-sex couples adopting children, declaring that the law was unconstitutional and citing last summer's historic gay marriage ruling as the reasoning behind his decision. The judge's preliminary injunction subsequently legalized the process in all 50 U.S. states, allowing same-sex couples everywhere the right to adopt. In his decision, U.S. District Judge Daniel Jordan wrote that to deny gay couples access to adoption services directly conflicted with the high court's earlier decision.
"It [...] seems highly unlikely that the same court that held a state cannot ban gay marriage because it would deny benefits — expressly including the right to adopt — would then conclude that married gay couples can be denied that very same benefit," the judge wrote. He claimed that the "defendants [had] offered a tepid defense of the statute itself, focusing instead on [the] plaintiffs' right to sue them" before adding,
Obergefell [v. Hodges] held that bans on gay marriage violate the due-process and equal-protection clauses. It is the equal-protection component of the opinion that is relevant in the present dispute over Mississippi's ban on gay adoptions. ... While it may be hard to discern a precise test, the Court extended its holding to marriage-related benefits—which includes the right to adopt. And it did so despite those who urged restraint while marriage-related-benefits cases worked their way through the lower courts.
The decision follows months of litigation and court arguments: The lawsuit, Campaign for Southern Equality v. Mississippi Department of Human Services, was first filed in August 2015. In a public statement that month, lead counsel Roberta Kaplan argued that "Mississippi's ban on adoption by gay and lesbian couples blatantly discriminate[d] against loving families, unfairly harm[ed] innocent children, and plainly [could not] be reconciled with the constitutional guarantees of due process and equal protection as recently interpreted by the Supreme Court."
The Campaign for Southern Equality cited the example of plaintiffs Brittany Rowell and Jessica Harbuck. "We feel compelled to adopt because the staggering statistics for children in foster care are daunting," the couple said in a statement to the campaign. "We want to open our home to a child and make them feel safe, wanted, and loved. Every child deserves that."
The Huffington Post on Thursday noted that the ban which Judge Jordan struck down — a mere one-sentence law established in 2000, which read in full, "Adoption by couples of the same gender is prohibited" — was one of several bans adopted around the time, but was one of the only left standing after states like Michigan, Alabama, Nebraska, and Florida rescinded their own prior rulings.
"The ban is effectively over [now]," Kaplan told the Associated Press in a phone call on Thursday. "DHS will have a very, very hard time convincing a judge on appeal."
Hattiesburg resident Kathy Garner and her wife Susan Hrostowski told the outlet that the couple was "overwhelmed with joy" upon hearing the decision. "For us," she said, "this has been a long time in the making." When asked how her 16-year-old son reacted to the news, Garner joked, "He said, 'Cool.' Then he said congratulations. Then he said he was going to take a nap."