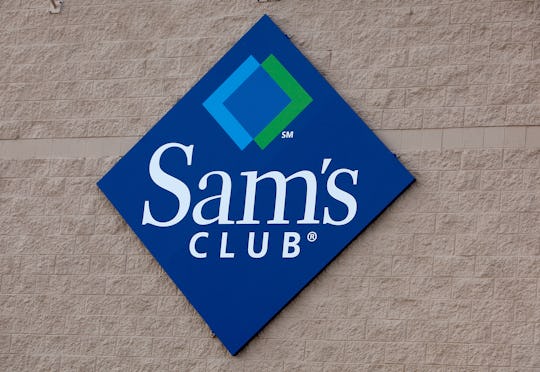 Scott Olson/Getty Images News/Getty Images
Sam's Club Is Closing Stores Across The Country, & Here's Which States Will Be Affected
Warehouse store Sam's Club is closing stores across the country, and many employees have alleged that they received no advance notice. Some said they received letters via FedEx Thursday morning telling them that their stores were closing, while others found out when they showed up for their shifts to find a notice posted on the locked doors, according to Business Insider. Some stores even had police on hand to turn workers away. One Sacramento Sam's Club employee expressed concern about how they'd be able to take care of their baby and mentally ill mother without a paycheck. "I'm lost," the anonymous worker told Business Insider. "I'm heartbroken. I'm scared."
Sam's Club, and its parent company Walmart, have yet to issue an official statement, but the store's social media account did respond to one tweet questioning the closures:
After a thorough review of our existing portfolio, we've decided to close a series of clubs and better align our locations with our strategy. Closing clubs is never easy and we're committed to working with impacted members and associates through this transition.
The news page on the Sam's Club website has not been updated in three months. Walmart's news page posted two releases on Thursday touting a one-dollar increase in that store's starting wages, but made no mention of the Sam's Club closures. Romper's request for comment was not immediately returned.
The company confirmed to Business Insider that 63 locations have closed or will be closing before the end of the month, but declined to comment on how many workers have been impacted. Each store typically employs about 175 people, meaning that the total jobs lost could number more than 11,000. The site obtained a company-wide email sent by Sam's Club CEO John Furner on Thursday, which describes the decision to "right-size" the company's "fleet" in order to better fit with customer population sizes.
We know these decisions impact people we care about deeply — our associates and their families, as well as our members and their neighbors — and we did not make them lightly. A Sam's Club is a place of community and memories, and we are so appreciative of our associates who have worked hard over the years to serve our members. Our immediate focus will be on helping those impacted by today's news. We will work to place as many associates as possible in new roles at nearby locations, and we'll provide them with support, resources, and severance pay to those eligible.
Sam's Club did not provide a list of the store locations that have been affected, but all of the stores that closed on Thursday have already been removed from the company's website. Anecdotally, it appears that stores in the following areas have been affected:
Alaska
Alabama
Arizona
California
Connecticut
Florida
Georgia
Illinois
Indiana
Lousiana
Maryland
Massachusetts
Michigan
Minnesota
New Hampshire
New Jersey
New York
North Carolina
Ohio
Puerto Rico
Tennessee
Texas
Virginia
Washington
Wisconsin
You can use the locator tool on the company's website to see if your local store is still open. Some of the states affected still appear to have other locations in operation, leading credence to Furner's assertion in the email that the company was closing down redundant locations that were already being served by other stores. But others will lose all of their Sam's Club locations, with no neighboring stores to pick up the slack. Remote Alaska is losing all three of its stores, as is Puerto Rico, where newly unemployed Sam's Club workers have already gone through unimaginable hardship in the wake of Hurricane Maria. The company is offering customers a free three-month club membership extension to make up for the inconvenience. It's unclear what employees will be offered.