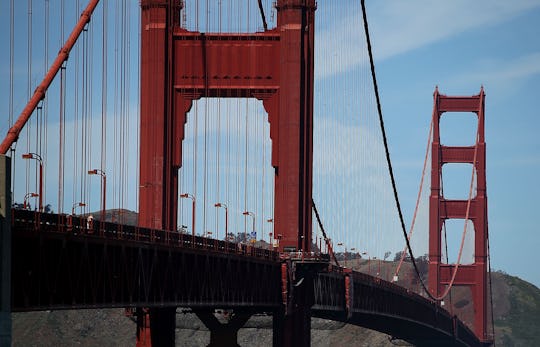 Justin Sullivan/Getty Images News/Getty Images
San Francisco Approves Fully-Paid Parental Leave & It's About Time
In news this week that's sure to inspire a whole host of expectant parents to start planning a move to the Golden Gate City, San Francisco approved mandated, fully paid parental leave. Under the newly-passed measure, which was approved Tuesday, employers must offer six weeks of leave to both new mothers and fathers. The law includes same-sex couples, regardless of whether they've adopted or had a child biologically. San Francisco is the first U.S. city to pass a measure like this, and frankly, it's about freaking time.
The U.S. is the only developed nation in the world that doesn't guarantee some form of paid maternity or parental leave. Mexico, for example, offers 12 weeks of fully paid leave, while in the U.K., eligible parents can share up to 37 weeks of paid leave, plus 13 more of unpaid time off. The best good old America had to offer, prior to San Francisco's new stance, was a very recent New York measure signed into law on Monday, in which parents are eligible for up to 12 weeks, albeit merely with partial pay. Otherwise, the view out there for new parents is pretty dire, with most states offering absolutely nothing. But, you know, paid parental leave only reduces infant mortality, decreases rates of depression in new mothers, and increases the bonding between fathers and their children. So it doesn't seem all that important.
In terms of paid parental leave, the rest of California lags behind San Francisco but remains ahead of most of the rest of the country, with a policy guaranteeing 55% of pay for six weeks, paid for by a worker-funded state insurance program. This new law requires employers in San Francisco to make up the difference. It affects companies with over 50 employees starting in January 2017, while companies with over 20 employees will have to hop on board by January 2018.
The New York Times cites San Francisco's proximity to Silicon Valley as a likely influence on the new policy since, in addition to offering perks like all the gourmet snacks you can eat and offices full of puppies, many tech companies give new parents generous leave. For example, Netflix allows up to a year of paid leave, yet another reason there's no need to feel guilty the next time you accidentally spend a whole day binging on House of Cards.
Hopefully, the San Francisco policy will send a signal to other cities and states to start enacting some paid leave laws of their own. And if not, maybe we should all just move to San Francisco. After all, the housing there is really cheap, right?