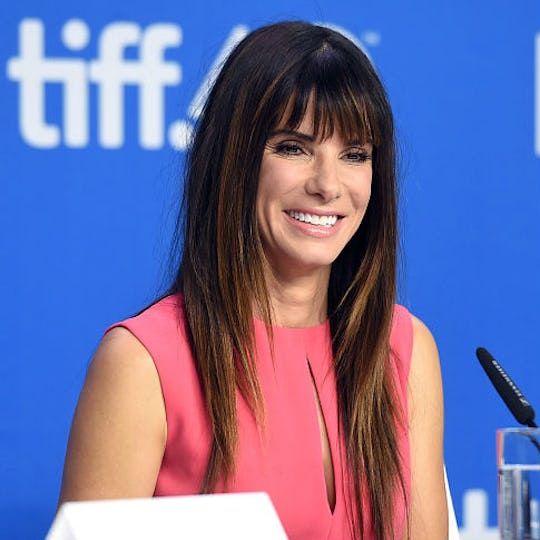 Sandra Bullock Adopted A Second Child, & Her Name Isn't What You'd Expect
And then there were three! Sandra Bullock has adopted a second child — a 3-year-old daughter named Laila. In an exclusive interview with People Wednesday, Bullock shared that Laila had originally been in foster care in Louisiana before finding her home with her new mom and brother (Bullock's first child, Louis, who was adopted in 2010). Though we don't know much about Laila – and given Bullock's strong desire to keep her children's lives private, we probably won't — we do know a few things about her gorgeous name.
According to Nameberry (aka, every pregnant woman's name bible), "Laila" is most often known as a variation of the Arabic name "Layla", which is also sometimes spelled "Leila." Used this way, Laila means "night", and was #149 in popularity for baby girls in the United States in 2014. Famous boxer Muhammad Ali's daughter is named Laila, and actor Shawn Wayans has a daughter named Laila as well. And then of course there's the old Eric Clapton song, "Layla", which I totally can't help but sing in my head whenever I hear the name (and perhaps thanks to the song, Layla is the more popular spelling variation, sitting within the top 30 girls names in the U.S., U.K., and Australia.
But, surprisingly, Bullock's little Laila isn't really a Laila at all: her name is actually pronounced "Lila" (or "Lyla", which is another variation of the name.) Despite the difference in pronunciation though, Lila is also an Arabic name meaning "night", and Nameberry also mentions that, In Hinduism, Lila is "a conceptualism of the universe as a playground of the gods." Although Lila only ranked #184 in the United States in 2014, its popularity is definitely growing, thanks to a general boom in all sorts of double "L" names for girls, like Lola and Lily.
Variant spellings of popular names are one of those things people seem to either love or hate. On the one hand, they can make a name more unique and less cookie-cutter, but on the other hand, having a name that is spelled different can mean a lifetime of having your name mispronounced, or at least misspelled. Given that Laila is most often pronounced "Layla", chances are this will totally be the case for Bullock's daughter.
But, on second thought, she's Sandra Bullock's daughter. Chances are good we'll be seeing a lot more Lila-spelled-Laylas from now on.
Images: Jason Merritt/Getty