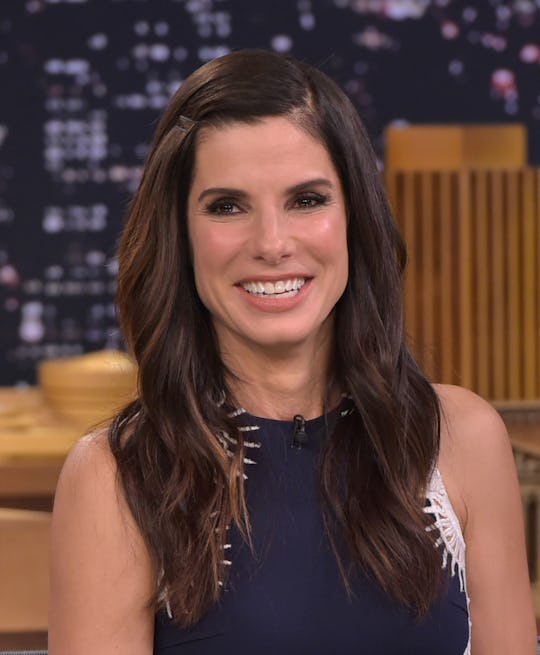 Sandra Bullock Adopts 3-Year-Old Girl, And Reveals The News In The Perfect Way
In a People exclusive Wednesday, Sandra Bullock revealed she has adopted a 3-year-old girl. But Laila, Bullock's new daughter, is hardly new to the family — according to the actress, she had fostered the 3-year-old prior to adoption her. A difficult feat, considering Bullock is a high-profile actress who had to shield the child from media attention. As Bullock told People, "You feel very much like witness protection."
Especially considering what Bullock had to go through to keep the adoption secret until it officially came through. Says the actress about the media attention:
Unbeknownst to me, a photographer had followed us and taken a photo of us in line ... The next day, I learned that a photo of her was being shopped around for sale to every outlet around the world. I had promised and legally agreed to protect her from something like this, and here I was chasing down lawyers — having them begging them to keep her safe.
Hearing this proves just why Laila's big reveal is so perfect. Sure, Bullock went to the media to announce that she had adopted a child, but that move merely beats any paparazzi to the punch when it comes to invading the actress' life with the 3-year-old and her 5-year-old son, Louis, who she also adopted. (And who Bullock has said "doesn't like [the paparazzi].") And the People cover goes to show just how far Bullock will go to protect her children. Just check it out below:
Not only is Bullock protecting Laila's face from being seen, but she also dons Louis in a mask — ensuring that he, too, is not getting the spotlight treatment that media often gives other celebrity children who lack privacy, like Suri Cruise. Instead, Bullock — who has backed legislation to protect children from paparazzi ("Children should be allowed to be children and not be sold," she has said) — is ensuring her children aren't tabloid stars. As she told People:
Most foster children are in foster care because they were taken from their birth homes under tragic circumstances — and the last thing I wanted was to bring more harm to her because of the nature of my job.
And her family certainly deserves that privacy and happiness. And based on her interview, it does indeed seem like Bullock is happy with Laila and Louis.
When I look at Laila, there's no doubt in my mind that she was supposed to be here ... I can tell you absolutely, the exact right children came to me at the exact right time.
And it seems Bullock made sure to make the announcement at the right, perfect time.
Image: Theo Wargo/NBC; People