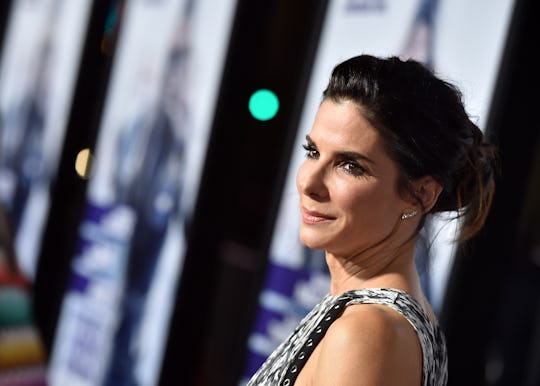 Kevin Winter/Getty Images Entertainment/Getty Images
Sandra Bullock Donates $1 Million To Hurricane Victims, & Her Statement Is Perfect
Although warnings were issued, no one could have predicted the havoc that Hurricane Harvey would have unleashed on Houston, Texas over the weekend. The southeastern city and its surrounding areas have been devastated by life-threatening flooding that continues to impact the region. Many people have mobilized to help the victims of the hurricane, including celebrities. On Tuesday, Sandra Bullock donated $1 million to Hurricane Harvey relief, the latest entertainer to offer help in the wake of the devastating storm.
USA Today reported that the actor gave $1 million dollars to the American Red Cross to help with recovery efforts in Houston and other areas ravaged by the catastrophic storm. Bullock, who use to live in Austin, 165 miles outside of Houston, said of her donation, according to USA Today,
There are no politics in eight feet of water. There are human beings in eight feet of water.
According to the New York Times, local officials in Texas have said there are 30 suspected and confirmed flood-related deaths, but that number is expected to rise. The tropical storm has made its second landfall in Louisiana early Wednesday morning, the Times reported.
Bullock is not the only entertainer to give donations to help victims devastated by the hurricane. Here are some other celebrities who have donated to Hurricane Harvey relief efforts after the storm ravaged the southeast Texas area this weekend.
Jensen Ackles
Dallas native Jensen Ackles, star of CW's Supernatural, donated $50,000 to the Hurricane Harvey recovery effort, according to CNN. He also helped raised more than $211,000 via Crowdrise in collaboration with co-star Misha Collins' charity, Random Acts. (The goal is $350,000, according to the fundraising page.)
Ackles, who lives in Austin, is currently in Vancouver filming the latest season of Supernatural, CNN reported. While he couldn't be in Houston to help physically, he told the outlet,
But I'm here, and what I can do is rally this incredible community that has been growing for more than a decade now, and I can try to harness some of that power and use it for good.
Ackles added that his wife, actor Danneel Ackles (née Harris), inspired him to launch the fundraising campaign. He also has friends in Houston, who, while safe, face "a long road to recovery," according to CNN.
Beyoncé
Beyoncé, a native of Houston, sad she plans to help with recovery efforts through her nonprofit, BeyGood, as well as work with her lifelong pastor, Rudy Rasmus of St. John's United Methodist Church in downtown Houston, to implement a recovery action plan, according to the Houston Chronicle. The Root also reported that the award-winning entertainer has made a "significant donation" to St. John's, though Rasmus did not disclose the amount.
Beyoncé told the Houston Chronicle in a statement,
My heart goes out to my hometown, Houston, and I remain in constant prayer for those affected and for the rescuers who have been so brave and determined to do so much to help.
J.J. Watt
J.J. Watt, defensive end for the Houston Texans, launched a YouCaring fundraising campaign to help the victims of Hurricane Harvey, according to Bleacher Report. The original goal was $2 million, but that was quickly met on Tuesday. The new goal is $6 million, according to the YouCaring Page; as of Wednesday morning, Watt's campaign has brought in nearly $5.6 million in donations. The pro football player also donated $100,000 of his own money, according to Bleacher Report.
Kevin Hart
According to Elle, comedian Kevin Hart, a native of Philadelphia, kickstarted the celebrity donation train with the "Hurricane Harvey Relief Challenge" he started on Instagram. He announced via the social media platform that he planned to donated $50,000 to the Red Cross for relief efforts, urging other celebrities such as Justin Timberlake and Steve Harvey to follow suit, Elle reported. Hart's campaign on Crowdrise has raised more than $980,000 as of Wednesday morning.
Dwayne "The Rock" Johnson
Johnson was one of the celebrities Hart name-checked in his initial call to action, according to Elle. The former pro wrestler said in an Instagram video that he would be donating $25,000 to the Red Cross, adding,
I want to send a message to the people of Houston: You got to stay strong. You got to hold on to faith.
Johnson went on to recall how he and his family were hit hard by Hurricane Andrew, a category 5 weather event that devastated South Florida on Aug. 24, 1992.
Jennifer Lopez And Alex Rodriguez
According to Refinery29, singer Jennifer Lopez and boyfriend Alex "A-Rod" Rodriguez each donated $25,000 to the Red Cross. In a joint Instagram video, Lopez said,
Our hearts are just breaking for all the families that are displaced, all of the victims. Seeing these pictures of children and all of the footage, it's just devastating. And we just want to do our part to help.
Rodriguez added,
It's our opportunity to come together as one to help out all of the families in distress in Houston.
The Kardashians
The Kardashian family announced on social media that they will collectively donate $500,000 to the Red Cross and Salvation Army for the Hurricane Harvey relief efforts, according to the Los Angeles Times. Khloe and Kim, along with mom Kris Jenner, all posted the news to Twitter with the message, "Houston, we are praying for you."
While many celebrities have donated to the Red Cross, others have stayed away from the organization, which has a history of financial mismanagement in times of crisis. According to Elle, rapper T.I. and singer Chris Brown have stated that they will donate to other organizations supporting the recovery efforts (T.I. gave $25,000, while Brown donated $100,000).
Other entertainers that have, in some way, donated to recovery efforts in Houston include Drake, Nicki Minaj, Lady Antebellum, the Chainsmokers, Jack Antonoff of Bleachers, and singer Kacey Musgraves, who volunteered at a Red Cross donation telethon Tuesday, according to Billboard.
There are many ways you could donate your time, money, or both to recovery efforts down in the Houston area. The New York Times has a rolling list of local and national organizations that could use help, as well as how to avoid scam calls for donations. Social media is also a great way to keep tabs on which groups, advocates, and activists need assistance with relief efforts in Texas.