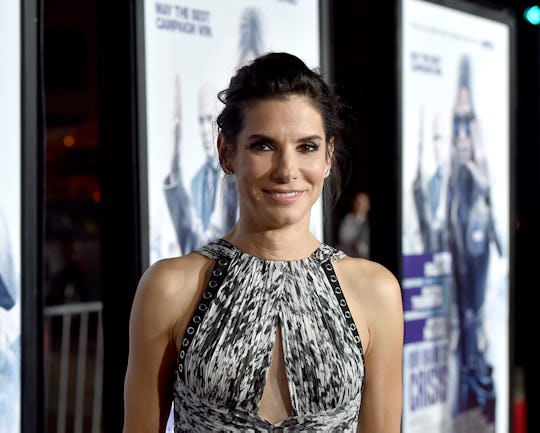 Kevin Winter/Getty Images Entertainment/Getty Images
Sandra Bullock's Story About Adopting Her Son Will Touch Adoptive Parents' Hearts
Ever since Sandra Bullock adopted her 8-year-old son, Louis, in January 2010, she has been an outspoken proponent of adoption. And when Bullock adopted her second child, now 6-year-old Laila, in December 2015, she became even more vocal about the importance of adoptive families. Whether you're a fan of Bullock's or not, it's hard not to agree that her advocacy for non-traditional families — like her call to ban the phrase "adoptive children" — is commendable. But just when you thought that Bullock couldn't get any more inspiring about her journey as a mom, she blew fans away on Monday with the emotional story of how she adopted Louis. Unsurprisingly, Sandra Bullock's story about adoption and her belief that a child "finds" its parent is touching a lot of adoptive parents' hearts.
Considering motherhood can be a personal subject to a lot of parents, it makes perfect sense that Bullock decided to open up about adoption to TODAY co-host Hoda Kotb. Similar to Bullock, Kotb adopted her 1-year-old daughter — Haley Joy Kotb — after the age of 40. Kotb was 52 when she adopted Haley, and Bullock was 45 when she adopted Louis from New Orleans, according to People. Talk about a perfect matchup for a meaningful interview about adoption.
As for what Kotb asked Bullock in the interview, one of the first questions centered around how the actress decided on adoption. Just like Kotb, Bullock wasn't sure if motherhood would ever happen for her — a sentiment that changed when Hurricane Katrina hit New Orleans in August 2005. "And then (Hurricane) Katrina happened," Bullock revealed to Kotb through tears, according to ET Online. "Katrina happened in New Orleans, and I knew. Like, just something told me that my child was there. It was weird. It was very, very weird."
Interestingly enough, it took about "three or four years" for Louis to cross Bullock's path. Bullock said about the special timing, according to POPSUGAR:
Three or four years later. But then I looked at (Louis), and I just said, 'Oh, there you are.' It's like he had always been there. It's like he fit in the crook of my arm. He looked me in the eyes, and he was just — he was wise. My child was wise. The beautiful thing that I was constantly told was, 'The perfect child will find you. You will find your child.'
What a beautiful perspective. I think many parents out there who adopted a child can relate to the sentiment that their child "found" them. Take Real Housewives of Dallas star Brandi Redmond, for instance. Redmond said about her serendipitous adoption and her son's matching red hair, according to People: "It's crazy. He'll always look like he came from me, which he did — he came from my heart."
Following Bullock's beautiful story, Kotb admitted to Bullock that she was inspired by her journey. Essentially, Kotb explained that Bullock's decision to adopt later in life gave her the courage to take on motherhood at age 52. A visibly moved Kotb recalled, according to CBS 8:
And I said, 'You know what? Like, if I need one more sign, like, I am going home and I'm starting to fill out all that paperwork.' And I remember I reached out to you and you gave me some good advice.
Bullock responded to Kotb's admission with a passionate speech about the misconception that motherhood needs to fit in a neat box. Considering Bullock adopted both Louis and Laila as a single parent, she knows this truth all too well. "I hope me telling my story let people know that there's no end game," Bullock added, according to E! Online. "There are hundreds of thousands of children that are ready to be your child. You're a forever parent the minute you accept the love of that child. And it's amazing to me how we can take away people's happiness by telling them that this is the box that you have to stay in. There is no box. There's no box."
Shortly after the interview, parents and fans took to Twitter to praise Bullock's message.
"@hodakotb your interview with Sandra Bullock about adoption was the best feel good TV I've seen in a long time," one fan penned, according to Twitter. "Being the step-mom of an adopted daughter, I know how important adoption is. Thank you for shining a light on it!"
Another person chimed in:
The box was created a long time ago - HS, college, job, marriage, your own children - that is not how everyone's life should be. Create your own box - the sky is the limit - and God bless every woman who is brave enough to create her own box and live a different life.
And one particularly emotional fan wrote: "This Sandra Bullock interview has me crying too early on a Monday morning. I love this conversation and connection. @Today y'all got it right."
It's really wonderful to see how Bullock's story about adoption is moving fellow parents. Not only is Bullock's story beautiful, but it also hits on the fact that motherhood can happen at any moment and in any circumstance. There's no "right" way to become a parent, and it's important that Bullock is drawing awareness to this reality.