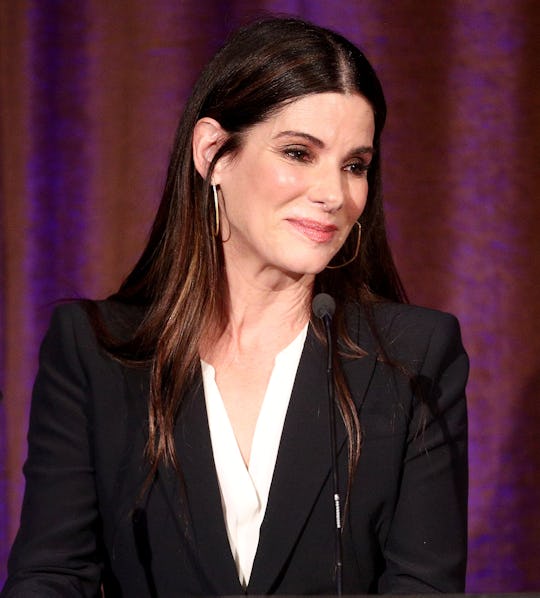 Frederick M. Brown/Getty Images Entertainment/Getty Images
Sandra Bullock Wants People To Stop Using The Term "Adopted Child" & It's So Important
It's no secret that Sandra Bullock is not only a successful Hollywood actress — but also a kick-*ss mom of two, to boot. While her career undoubtedly keeps her busy and relevant in the media, it's what she has said about motherhood that has made headlines recently. Bullock is the mom of two young children, Louis and Laila (who are roughly 8 and 5, respectively,) and the former Miss Congeniality star has a bone to pick with how others label them. Apparently, Sandra Bullock wants people to stop using the term "adopted kids," and honestly, it makes total sense.
Bullock was promoting her latest movie Oceans 8 in a recent interview with In Style, when she touched upon the topic of her two kiddos and adoption. Since adopting Louis in 2010 and Laila in 2015 — and she is reportedly in the process of adopting a third child, Hollywood Life reported — Bullock has remained active in promoting adoption and foster care. So when she was asked if she thinks the adoption and foster care system is improving in the U.S., she gave on honest answer. "I'm all for Republican, Democrat, whatever, but don't talk to me about what I can or can't do with my body until you've taken care of every child who doesn't have a home or is neglected or abused," Bullock told In Style for the May cover story. "It makes me teary-eyed."
Hello! Magazine reported that Bullock went on to add:
Let's all just refer to these kids as 'our kids.' Don't say 'my adopted child.' No one calls their kid their 'IVF child' or their 'oh, sh*t, I went to a bar and got knocked up child.' Let just say, 'our children.'
Honestly, I think Bullock makes an excellent point here. Who goes through life providing specific details about how their children came to be? The fact that the actress isn't biologically related to her two kiddos doesn't make her any less of a mother. And neither does having a child via embryo adoption, or IVF, or fertility treatments, or an unplanned pregnancy. So why do so many people feel a need to make the distinction in the first place?
I mean, I don't introduce my kids as, "This is my son, who was conceived probably in the missionary position sometime in late fall, 2010." Or, "Meet my daughter, who was conceived naturally three months after I had a miscarriage and was delivered with the much-appreciated help of an epidural and an episiotomy." And, "This is my other daughter, whom I had to spend months convincing my husband to conceive, but he finally caved in the end because I'm so relentless." Just no.
If there's still any doubt in your mind that she doesn't deserve the full title of "mom" — instead of "adoptive mom" — I'd like to point you in the direction of basically any of San quote about her kids. Because hearing her talk about her children literally brings tears to my eyes. Like when she was named the World's Most Beautiful Woman by People Magazine in 2015. At the time, her reaction to earning this honor was, "What is beautiful is the honor of being Louis' mother."
Or when she spoke about how everything fell perfectly into place with her family. "When I look at Laila, there's no doubt in my mind that she was supposed to be here," Bullock told People in 2015, shortly after adding her to the family. "I can tell you absolutely, the exact right children came to me at the exact right time." During the same interview, she added:
I knew she was scared, and all I wanted was for her to know Louis and I weren't going anywhere ... My family is blended and diverse, nutty, and loving and understanding. That's a family.
So yeah. When it comes to unnecessarily labeling people —"adoptive parents" with "adopted kids" — let's follow Sandra Bullock's advice and just keep it simple. They're parents and kids. Nothing more and nothing less.