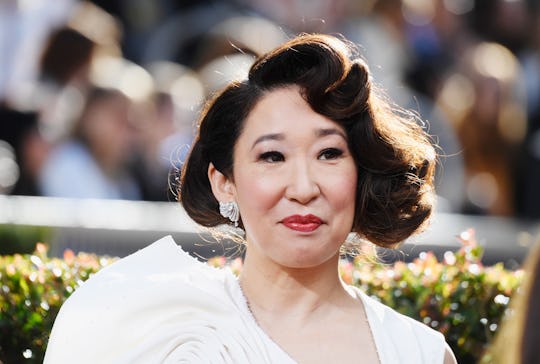 Frazer Harrison/Getty Images Entertainment/Getty Images
Sandra Oh's Family Wore Amazing T-Shirts To Honor Her Golden Globes Hosting Gig
Sandra Oh may have been robbed at the Emmys last year, but she's both nominated for an award and hosting at the Golden Globes tonight, making fans everywhere proud. As a little tease to get the festivities started, Sandra Oh's family supported her Golden Globe nomination with truly incredible matching t-shirts, emblazoned with one of the actress' best quotes of 2018.
In one of the more memorable bits of the 2018 Emmys — wherein fans noticed that despite an increased focus on diversity, it sure seemed like the majority of wins went to white nominees — cameras cut to Sandra Oh, who quipped, "It's an honor just to be Asian." Of course, she had been nominated for Outstanding Lead Actress in a Drama Series for her work on Killing Eve, making history as the first Asian actress ever to be nominated in the category. Oh sadly lost to Claire Foy, who won for playing Queen Elizabeth II in Netflix's sweeping period drama The Crown, but her joke was immediately GIF-ed and widely shared all over the internet. Her family really took the gag to the next level, though, when they all wore matching t-shirts honoring Oh for her groundbreaking Golden Globes gig.
Oh is the first Asian person in history to host the Golden Globes, and, yet again, she's the first Asian woman to be nominated in the Best Actress in a Television Series, Drama category for her leading role on Killing Eve. Twitter collectively swooned over her wholesome family photo honoring Oh's accomplishments, and it's easy to see why. It was extremely adorable. Oh's parents joined her as her date to the awards ceremony and were standing by as she won the Golden Globe for Best Actress, her second after winning in 2006 for her supporting role on Grey's Anatomy.
In an interview with The Hollywood Reporter, Oh admitted that she was feeling super nervous about hosting the Globes, but that fear was part of what motivated her. She revealed, "I said yes even though it was so terrifying to me, really terrifying. I just could not let this opportunity pass me by, the life experience of being this scared of something."
She and her co-host Andy Samberg also had a clear vision on how they were going to handle political jokes this Golden Globes: they weren't. "The job of being a host, it's really to be there to support all the nominees and those who take that platform to say whatever they want," said Oh. "I don't really think that [getting political] is for the hosts necessarily. You make it an open and safe place for whoever wants to use that platform to speak."
Their strategy appeared successful, as most viewers tuning in seemed to love their hosting energy.
After a very frustrating first birth experience, this Deaf mother wanted a change. Will the help of two Deaf doulas give the quality communication and birth experience this mom wants and deserves? Watch Episode Four of Romper's Doula Diaries, Season Two, below, and visit Bustle Digital Group's YouTube page for more episodes.