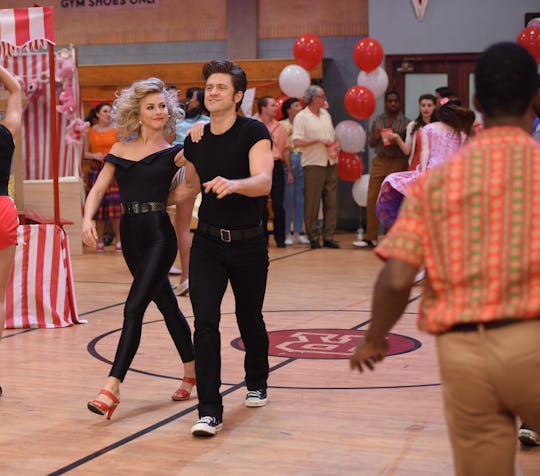 Michael Becker/FOX
Sandy Changes For "You're The One That I Want" & The Internet Can't Decide Whether That's Feminist Or Not
The original Grease's "You're The One That I Want" scene is among the best dance numbers in movie musicals. It has it all: A killer duet, group choreography, insanely catchy lyrics. I don't even want to think about how many takes were required to get it right or how intimidating Grease: Live's "You're The One That I Want" scene must have been for the cast — and, yet, Julianne Hough, Aaron Tveit, and the rest of the group from Rydell High really did justice to the small-screen version. The only downside is this: You have to overlook the unsettling number of ways that Sandy changes for "You're the One that I Want" — seemingly making herself over for Danny's sake.
There were plenty of other reasons the cast and crew had to be nervous ahead of the live Fox broadcast on Sunday night. Kether Donohue, who played Pink Ladies-member Jan, told Vanity Fair, "We're all nervous. I speak for everybody when I say we are nervous, but it's a good nervous." That bit of anxiety was for good reason: Although the 1950s-era musical started out as a stage performance, the most widely known version is the meticulous 1978 movie Grease. Recalling to Vanity Fair just how much went into each scene, Lorenzo Lamas said the epic "You're The One That I Want" number took seven hours to film.
In serious contrast, Hough and Tveit really just had one chance to get it right. But, like the pros that they are, the new Sandy and Danny didn't miss a beat.
I mean, I didn't see John Travolta do a backwards summersault!
The problem is, many people can't overlook the Good Sandy/Bad Sandy transformation. After two hours and 50 minutes of airtime where she stayed true to her morals, it really is a bit of a red flag to see Sandy throw it all aside for the sake of a guy. (Who, let's be honest, isn't that great of a catch.)
But others see it differently: What if "Bad Sandy" was the true Sandy all along and she was finally able to express herself? In that case: Get it girl!
"You're The One That I Want" is a fittingly catchy ending to a lighthearted night. Let's just hope the epilogue to Grease: Live! includes something about Sandy going on to do whatever she darn well pleased without needing validation from some guy.