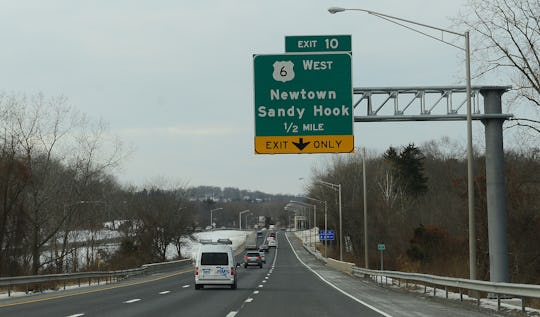 EMMANUEL DUNAND/AFP/Getty Images
Sandy Hook Elementary School Reopens 4 Years After The Tragedy
Just four years after tragedy struck, the residents of Newton, Connecticut are getting a new beginning. While the grief and loss may forever remain in their minds and hearts, a new start is emerging from the ashes of what remains. This week, for the first time since that tragic day four years ago Sandy Hook Elementary School reopens — with a new look and a new start for everybody.
Sandy Hook Elementary School does not look like the Sandy Hook Elementary School that existed four years ago. That Sandy Hook Elementary School was torn down after the shooting took place. This new elementary school is in the same place as the old one but has a new look and security system that allows for a fresh start. According to Time, the school is completely redesigned and contains no obvious memorials to the 26 people who died inside the old school in 2012.
The thought of those 26 people remains — through new safety features, like a gate at the front of the school and bulletproof glass windows. The school opened for the first time on Friday to show off the school's new safety features and satiate the public's curiosity — so when the students go back to school on Aug. 29, they can go back in peace.
While the thought of the tragedy remains, the new Sandy Hook Elementary School is a marvel. Not only does the school feature new safety technology, it also boasts a forest theme, according to Time, complete with nooks to resemble tree houses — and only cost $50 million to build. School principal Kathy Gombos told New York Daily News:
There have been some tears, but I think after they spend an hour or so here, they feel like it's going to be an unbelievable learning space for kids.
If there is any thing that deserves a fresh start, it is the community of Newton and the incoming fourth grade students attending Sandy Hook Elementary School — about 30 of them who were only in kindergarten at the original property when the shooting occurred. But just because the new school is such a nice change doesn't mean the thought of the old school doesn't remain. "But, let me state unequivocally that we would trade this beautiful new school for the more familiar and ancient Sandy Hook School, built in the '50's, if we could just change the past," Pat Llorda, Newton's first selectman, said.
In spite of the tragedy surrounding Sandy Hook, this new building is a new start. It is a chance to rebuild and create new, lasting memories in a new space. For the first time in four years, Sandy Hook Elementary School is opening it's doors to students and allowing them to create new memories — happier memories, for themselves.