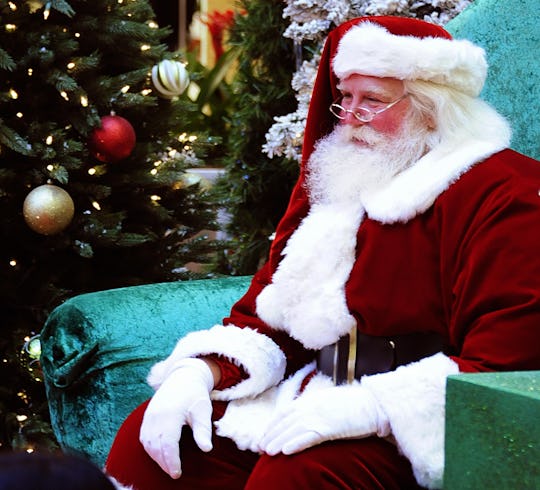 KAREN BLEIER/AFP/Getty Images
Santa Claus Learns Sign Language To Make Sure All Kids Have A Happy Christmas
To make sure all kids have a happy Christmas, one Santa Claus learned American Sign Language and it's been a wonderful surprise for hearing-impaired children who might not have had the ability to communicate their wish lists to the festive figure before. According to Fox News affiliate WITI, this Santa Claus was spotted at Regency Mall in Racine, Wisconsin. Unsurprisingly, parents have been touched by the thoughtful gesture to include every child in the holiday fun.
Considering the National Institute on Deafness and Other Communication Disorders (NIDCD) estimates that roughly three out of every 1,000 children in the United States are born with a level of deafness in one or both ears, this Kris Kringle's communication ability will go a long way this holiday season.
"I want every child to have a very special experience sitting here with me. Some of the children who can't hear — I can sign to them as well," the Santa told WITI.
Santa told the news outlet that when he asks the children what they would like for Christmas that most are surprised to learn that he knows Sign Language. "The children appreciate the idea that they can come and talk to me, talk to Santa without having to go through their parents or their siblings to interpret for them," he said.
It's not only a heartwarming surprise for the kids, but it's been a touching experience for their parents as well. Santa explained to WITI, "I had one mother who was deaf herself back there and she cried because it is her first time as an adult she had ever seen Santa sign for her child."
And if kids don't want to talk or sign with Santa, he gives them the option to communicate with him however they choose, such as writing out their lists or drawing pictures of what they'd like. "I like to get lists, and if you can't spell the word, draw me a picture," Santa told the news outlet.
This year isn't the first time a Santa has used Sign Language with kids. Just last year, for example, an excited, but shy 3-year-old girl in England communicated with Santa through sign language and the sweet moment reportedly made onlookers cry. You can watch the heartwarming exchange below:
While this Santa has only been spotted in Wisconsin so far this holiday season, Sign Language is commonly referred to as the fourth most-used language in the United States. So it might not too be too tricky to come across a St. Nick who is proficient in the visual language — but make sure to call your local mall before stopping by to visit Santa, just to be sure.