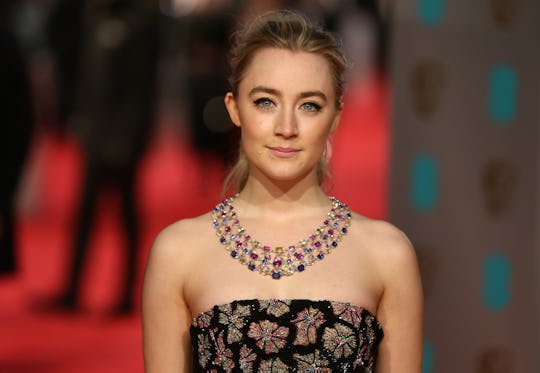 JUSTIN TALLIS/AFP/Getty Images
Saoirse Ronan's Oscars Dress By Calvin Klein Shows She Is All Grown Up
There were lots of two-time nominees at Sunday's Academy Awards, but it was Saoirse Ronan's Oscars dress that truly showed how much the star has changed since the last time she was up for a trophy at the event. The gown, a custom sheath by Calvin Klein, was sparkly and chic, with a plunging neckline, a strappy back, and a close-fitting silhouette. E! hosts commented that the actress had wanted to wear green to represent her native Ireland. The actress wore her blonde hair loose and tousled, with smoky eye makeup to match the gown.
When Ronan was nominated for best supporting actress in 2008, she wore a girlish green dress, a ponytail, and no makeup. She was 13 years old at the time, after all.
Ronan's 2016 dress made the young actress look elegant and sexy. When compared with the 2008 outfit, it really illustrates how much Ronan has matured from the young teen who we first encountered as Briony in the film Atonement. At 21 years old, Ronan is still the eighth youngest woman to ever be nominated for best actress. In 2008, she was the seventh youngest person to ever be nominated for best supporting actress.
Though in the same color family is her 2008 choice, the two dresses could not be more different. Saturday's ensemble showed the Saoirse Ronan is all grown up.
A lot can change in eight years.