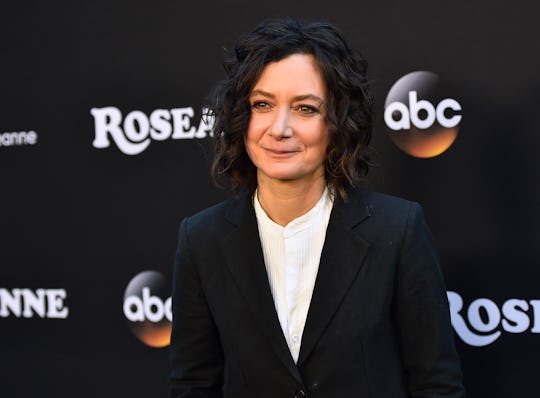 Alberto E. Rodriguez/Getty Images Entertainment/Getty Images
Sara Gilbert's Response To 'Roseanne' Getting Cancelled Shows She Won't Stand For Racism
The stars of the Roseanne reboot have been swift with their responses to the cancellation of the ABC show, and their reactions have shown that they have zero tolerance for the behavior of their former co-star. Today on The Talk, the hosts discussed Sara Gilbert's response to Roseanne getting cancelled and she affirmed that she won't stand for any kind of racism.
Gilbert, who has co-hosted The Talk since 2010, was one of the first to denounce Roseanne Barr's racist tweet last week, in which she reportedly made a derogatory comment about former Obama staffer Valerie Jarrett. "Muslim brotherhood & planet of the apes had a baby=vj," read the tweet, which Barr soon deleted, according to The New York Times.
Barr posted an apology to Barrett, but the damage was already done, and ABC's president, Channing Dungey, was quick to release a statement. "Roseanne's Twitter statement is abhorrent, repugnant and inconsistent with our values, and we have decided to cancel her show," Dungey said in the aftermath, according to Entertainment Tonight. Barr's representatives did not immediately respond to Romper's request for comment.
With two tweets, Gilbert, who played Darlene on Roseanne, made her thoughts on the matter clear, calling Barr's comments "abhorrent" and noting that her actions do not reflect the "beliefs of our cast and crew." She went on to say in an additional tweet that this event was hard for everyone on the show, perhaps alluding not only to the heartbreak of seeing Barr's comments, but also the loss of so many jobs.
Co-star Michael Fishman, who played Roseanne's son DJ on the sitcom, also posted his response to Twitter. In a photographed statement, he said he condemned Barr's words, calling them "reprehensible and intolerable."
On Monday's edition of The Talk, the show decided to drill into the issue. Co-host Julie Chen first read Gilbert's aforementioned tweets and then Gilbert elaborated on the show's cancellation further, according to Entertainment Tonight. As Entertainment Tonight reported, Gilbert said:
In addition to my statement, I would like to say that this has been a very difficult week. A lot of people have been hurt by this. I will say I am proud of the show we made. The show has always been about love, diversity and including and it's sad to see it end in this way. I am sad for the people who lost their jobs in the process, However I do stand behind the decision that ABC made.
The Los Angeles Times reported on the number of people impacted by Barr's racist tweet, estimating 300 to 400 people including actors, crew, designers, prop makers, and post-production professionals worked on the show. The day the controversy happened was the first day back for a portion of the crew to begin planning Season 2, the Los Angeles Times reported.
Rumors have been swirling about the potential for the show to continue without Barr. The Hollywood Reporter cited multiple sources who reportedly told the publication that ABC was meeting to discuss potential new series. TMZ reported that a show centered around Sara Gilbert's character Darlene could be in talks, noting that Gilbert was allegedly speaking to other cast members to gauge interest.
On the other hand, ABC may decide to completely disassociate itself from the show. According to The Hollywood Reporter, the streaming service Hulu had pulled all its episodes of the sitcom, while networks like TV Land, CMT, Paramount, and The Laff have all dropped their reruns of the original Roseanne series that aired in the '90s.
How different would a Gilbert-led series look from the Roseanne viewers embraced? Likely very. While the newest Roseanne featured a working-class family, some of whom held right-wing conservative beliefs, grappling with issues like race and gender, Gilbert seemed intent on separating the series from political issues. According to The Hollywood Reporter, she previously told Andy Cohen on an appearance of Watch What Happens Live:
The show is not about politics. It's not about anyone's position or a policy, it's really about what happens to a family when there's a political divide, which is something that I think the entire country can relate to and something we need to talk about.
More of Roseanne Barr? No. But more of the Conner family and their middle-class struggle? That just might be a series viewers could get behind, especially if it's led by Gilbert's rising star.