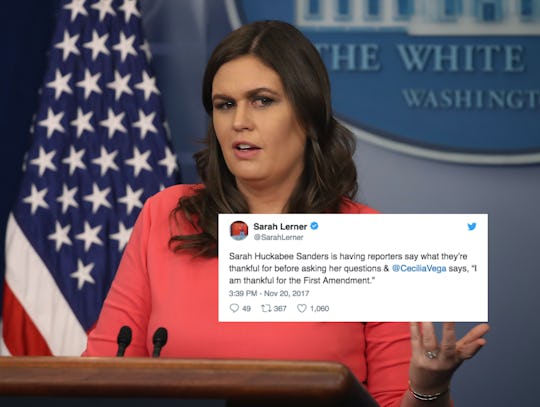 Mark Wilson/Getty Images News/Getty Images
Sarah Huckabee Sanders Treats Reporters Like Toddlers & Makes Them Say What They're Thankful For
I don't know about you, but I've noticed that, right after Halloween wraps up, my social media feeds become inundated with "thankful" chain letters. In response to copy-and-paste requests, many of my friends will begin to post lengthy missives about what they're grateful for and name-checking the people they love. I never thought, though, that this would extend to the White House press pool, but turns out I was wrong. Why? Because White House Press Secretary Sarah Huckabee Sanders made people say what they were thankful for at a press briefing. Seriously.
According to Talking Points Memo, Sanders told reporters during Monday's presser that, before asking their question, they had to list everything they are grateful. She opened up the daily briefing — the last one before Thanksgiving — by giving her own thanks to the press corps, first responders, and the U.S. military, among other groups before telling reporters,
So this is how it's going to work today, since I'm here and I get to call on you. If you want to ask a question, I think it's only fair, since I've shared what I'm thankful for, that you start off with what you're thankful for. So anybody want to be first on what they're thankful for?
Of course, social media users had thoughts.
Maybe it's just me, but I am actually surprised that reporters complied. It could be the rebel journalist in me. Or it could be that I can't get past the sheer gall of Sanders' "request" — that reporters had to give up information in order to exercise their First Amendment right. If you listen to the press secretary's words, you'll realize it's a literal tit-for-tat request.
Nevertheless, members of the White House press pool shared their thanks and many of them had interesting responses. According to The Hill, ABC News reporter Cecilia Vega said she was "thankful for the First Amendment." (You hear that? It's millions journalists clapping.) In a bit of irony, Sanders replied, "I think we all are," even though the administration she works for has shown, time and time again, a blatant disregard for reporters's First Amendment rights as well as freedom of the press. But I digress.
Although, of course, Vega's answer deserves a round of applause, journalist and author April Ryan had the most deliciously snarky response to Sanders' question. According to Splinter, the CNN contributor told the press secretary,
I'm thankful to be able to talk to you and question you every single day.
Would it be inappropriate to ask for Ryan's hand in marriage right now?
All-in-all, though, the whole press briefing was a cringe-worthy. Sure, it's wonderful to share your thanks whenever you can. A White House daily press briefing is not the place to do it, though — especially because of the imbalance of power. It may be a reporter's job to question the White House and hold President Donald Trump accountable for his actions. But the press secretary has the power to withhold that information without you being none-the-wiser in that moment. So Sanders is already holding a better hand.
And Sanders' request itself is an insidious power trip on her part. Think about it like this: According to Splinter, when AP's Zeke Miller did not comply with a list of things for which he's thankful, the press secretary admonished Miller to the laughter of his fellow press pool journalists. Miller may not have walked away embarrassed — I really wouldn't know if he had or had not. But the fact that she treated this experienced White House reporter like a toddler who didn't follow the rules goes to show you what she really thinks about the press pool.
It's not gratitude, I could tell you that.
Check out Romper's new video series, Romper's Doula Diaries:
Watch full episodes of Romper's Doula Diaries on Facebook Watch.