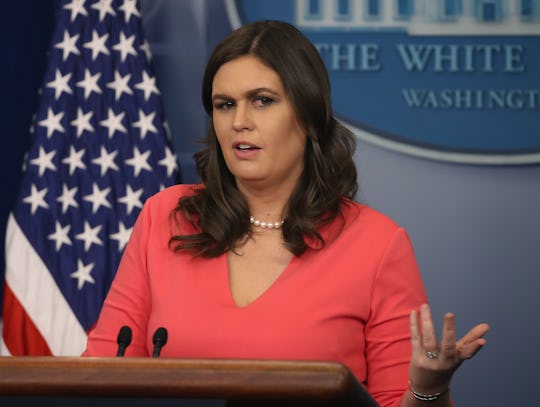 Mark Wilson/Getty Images News/Getty Images
Twitter Doesn't Believe Sarah Huckabee Sanders Baked This Pie
There is hardly anything normal about what's been going on since January in Washington D.C. There have been numerous people fired, multiple investigations, and outlandish claims being made. And now, Press Secretary Sarah Huckabee Sanders tried to pass off a stock photo as home cooking, and the internet definitely had fun with it. While Sanders might not be making as many headlines as her predecessor, Sean Spicer, she's still pretty controversial. Sanders has repeatedly been criticized for her handling of reports and the way she speaks to the White House press corps, but her latest tweet is what has everyone talking — this time, at least.
Thanksgiving day, Sanders took to Twitter twice to express her gratitude and share how her day was going. Her first tweet was harmless enough. "Happy Thanksgiving, particularly to the men & women of our military away from their families today," she wrote. "Grateful for these selfless & fearless Americans who represent the very best of our country." However, when Sanders attempted to show the world her own contribution to Thanksgiving dinner, it went amiss, to say the least. Alongside a very photogenic pecan pie, Sanders wrote, "I don't cook much these days, but managed this Chocolate Pecan Pie for Thanksgiving at the family farm!" The problem? The photo of the pie seems to be almost definitely a stock image from another website.
And, of course, Twitter couldn't just let the opportunity pass without poking some fun at Sanders. In fact, many replies are even accusing Sanders of simply finding a photo of a pecan pie on the internet and trying to pass it off as her own.
Of course, that can't really be confirmed, and there are actually a lot of possible explanations for why Sanders' photo looks exactly like a stock photo of the popular dessert. But, that doesn't mean Twitter wasn't having fun with the almost-too-perfect pie photo.
One of the most persistent beliefs surrounding Sanders' tweet is that the pie she shared doesn't actually exist in the real world and that it is, indeed, a stock image. However, some have pointed out that she might have just bought the pie from a professional baker and not wanted to admit to it. And considering how harsh the internet is being towards her now, that's kind of understandable.
Being in the public eye comes with a lot of added pressure, that much is true. While it doesn't really matter whether or not Sanders cooked the pie herself, it's still kind of interesting. And she isn't the first public figure to be accused of trying to pass something off as home-cooked, when, in fact, it isn't. Back in 2015, Khloe Kardashian shared a photo to her Instagram of some beautifully bakes Thanksgiving desserts, claiming them as homemade.
However, the pies featured in Kardashian's photo were also accused of being from a store. And the store owner, Jane Lockhart, of Sweet Lady Jane bakery, claimed they were her signature pies. "The nerve. When I saw the pies on her table I thought, 'She has to be kidding me.' I want to say, 'Good job. You want a job here?'" she told The New York Daily News.
So, depending on what the truth behind Sanders' pie is, maybe the true baker will reveal themselves as well. Of course, the fact remains that Sanders clearly claims that she baked the pie herself, and was feeling particularly proud of it. So, maybe she did. Maybe the White House Press Secretary just has a knack for baking extremely photogenic pies? It's really impossible to say for sure, but Twitter, for one, certainly doesn't believe her.
For now, it appears as though the case of Sarah Sanders' pecan pie will remain one of the most intriguing mysteries of 2017.