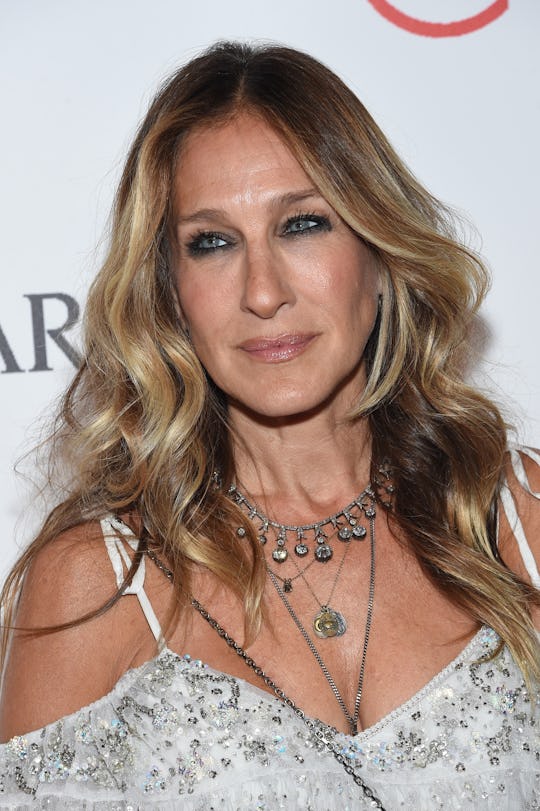 Jamie McCarthy/Getty Images Entertainment/Getty Images
Sarah Jessica Parker Quits Mylan's EpiPen Campaign In Response To Soaring Prices
With a 13-year-old son constantly at risk of anaphylaxis, Sarah Jessica Parker knows the significance of having an EpiPen available and at hand. Recent hikes in the tool's price has been met with outrage and concern nationwide. In an effort to bring more attention to this truly substantial price change, Sarah Jessica Parker has quit Mylan's EpiPen campaign.
Parker was involved with the "Anaphylaxis: For Reel" campaign this past May. In this capacity, she "brought attention to allergic reactions via a media tour and social campaign." At the time, she posted an Instagram image that read "There is still so much more we can do to help the millions of people who are at risk for anaphylaxis, a life-threatening allergic reaction." Her caption added, "It's been an honor working with the #AnaphylaxisForReel initiative as a #spokesperson for Mylan this past month and encouraging people to share their stories about managing potentially life-threatening (severe) allergies."
In her Instagram post shown below, Parker states that she has "ended [her] relationship with Mylan as a direct result" of their soaring prices. She explains: "I recently learned that the price of the Epi-Pen has been systematically raised by Mylan to a point that renders the medication cost-prohibitive for countless people."
Since 2009, the average wholesale cost of Mylan's EpiPen has increased by about 500 percent, with insurers paying about 150 percent more. This renders a pack of two EpiPens to be around $600 at full price. Marianne Udow-Phillips, director of the Center for Healthcare Research & Transformation at the University of Michigan, said that "Mylan hiked the price of EpiPen to maximize profits in anticipation of a generic competitor from Teva Pharmaceutical Industries." The competitor mentioned, however, has had its generic release delayed until 2017 at the earliest. Ultimately, Mylan "knew that they had a monopoly," observes Udow-Phillips.
In a Thursday press release, Mylan said that it would now "cover up to $300 of out-of-pocket cost at pharmacy; reducing patient cost by 50% off Mylan list price." Additionally, it will ease the burden for low-income patients by "doubling the eligibility for patient assistance, effectively eliminating out-of-pocket expense for [the] uninsured and under-insured." The company attributed the high consumer price point to insurance companies' out-of-pocket expectations. Whereas Mylan's changes might help consumers, The New York Times notes that "insurance companies, federal health programs like Medicare and Medicaid and school districts that stock the products could still pay the same price."
It seems that objectors, Parker among them, had their voices heard. Though Mylan's changes have not been what was asked (namely a lower wholesale price) the company's response shows a recognition of a problem. Mylan hasn't taken credit for this problem, however, so perhaps it needs a little more nudging.
Mylan spokespersons did not immediately return a request for comment.