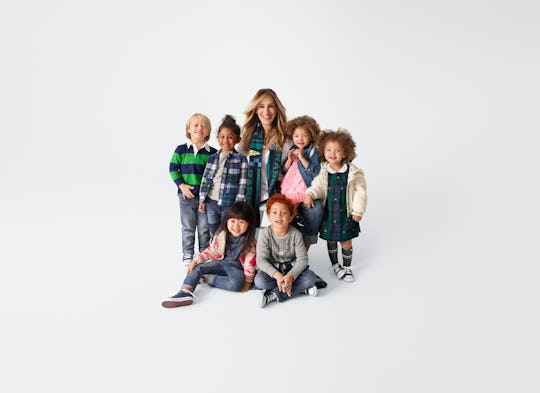 Gap
Sarah Jessica Parker Has A New Gap Kids Collection That's Perfect For Fall
Sarah Jessica Parker is both a mom and a major style icon, so when she launched her first collaboration with Gap Kids earlier this year, it wasn't exactly a surprise that it ended up being completely adorable. But it turns out that she had one seriously sentimental inspiration driving her designs: Parker, who grew up in a family of eight kids, told Vogue she drew upon her own childhood hand-me-downs to create a timeless collection of beautiful kids' clothes. Unfortunately, it was a limited-edition line, but the good news? She's now back for round two: Sarah Jessica Parker's new Gap Kids collection is here, and it once again offers up pieces that are meant to be worn, loved, and then passed along.
The Gap | Sarah Jessica Parker Fall collection offers up some classic, cozy, lived-in pieces for both kids and toddlers, and though they may have a famous name attached to their design, they definitely aren't at all too precious for everyday wear. And according to Parker, well, that's the whole point: she explained her focus was to design pieces that would get "as much use as possible" while still being "charming and well-made." The result? Think plaid shirts and dresses, striped rugby tees, denim jackets with quilted sleeves, and cozy sweaters (along with some seriously-cute bunny-themed knee socks that I honestly wish came in adult sizes).
The comfortable timelessness of Parker's Gap Kids line is definitely something most parents can appreciate — if you have more than one kid, then chances are you're going to want to save as many items as you possibly can for hand-me-down purposes. And best of all, the pieces themselves are pretty affordable: the items range in price from $14.95 up to $78.
Of course, despite her upbringing in a large family, Parker herself likely doesn't have to rely too much on dressing her kids in second-hand clothes: aside from the fact that she's a big-name celeb, I can't imagine she had much use for her son, James' clothes when her twin daughters, Tabitha and Marion, arrived seven years later. Yet, though the star has largely kept her children out of the spotlight, in May, her two girls — who are now 8 years old — accompanied their famous mom to the New York City Ballet 2018 Spring Gala, according to Us Weekly. Judging by the red carpet photos of the trio, Parker dresses her daughters with the same classic style that she also used as inspiration for her Gap Kids line.
Parker, looking predictably stylish, opted to wear a pleated chiffon dress with sheer sleeves and satin trim to the event, while her girls dressed in complementary floral dresses with matching headbands.
In any case, parents looking to snatch up the adorable items from the latest Gap | Sarah Jessica Parker collection won't have to wait too much longer: the collection will be available on August 27 at GapKids stores, as well as online through gap.com. And international customers can get in on the action too — Parker's fall Gap line will also be out in stores in Canada, the United Kingdom, France, Italy, China, Hong Kong and Japan.
Honestly, gearing to purchase fall clothes as the summer comes to a close can feel pretty bittersweet — can't we all just stay in shorts and sundresses forever? But looking at the images of Parker's cozy plaid shirts and snuggly sweaters actually is kind of making the prospect of fall seem pretty appealing.