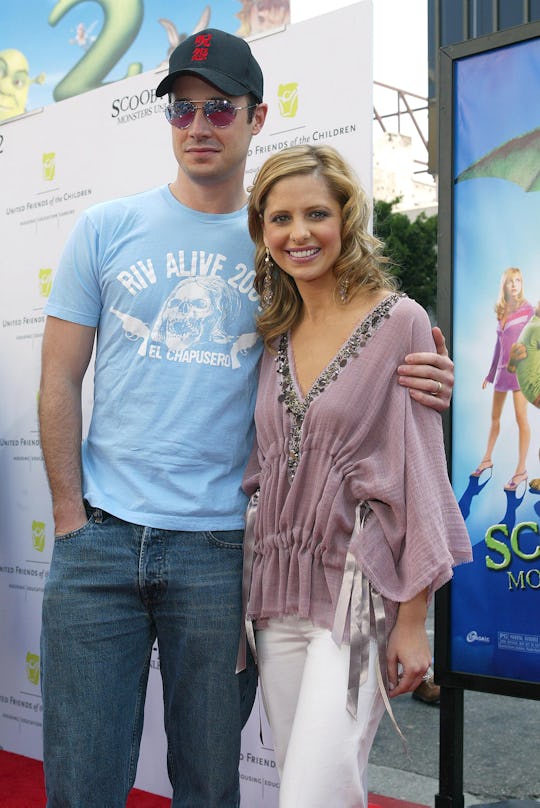 Frederick M. Brown/Getty Images Entertainment/Getty Images
Sarah Michelle Gellar Celebrates 16 Years Of Marriage With Freddie Prinze Jr.
The early '00s were a time of some truly epic celebrity couples — Britney Spears and Justin Timberlake, Brad Pitt and Jennifer Aniston, Jessica Simpson and Nick Lachey — but none have endured the test of time quite like the king and queen of late '90s teen films, Freddie Prinze Jr. and Sarah Michelle Gellar. Gellar and Prinze Jr. tied the knot in 2002, five years after they first met as co-stars on 1997's I Know What You Did Last Summer, according to E! News. But the couple is still as strong as ever: on Tuesday, Sarah Michelle Gellar celebrated her 16th wedding anniversary to Freddie Prinze Jr. with a sweet Instagram selfie, and it's why they're definitely OG '90s #relationshipgoals.
It's honestly pretty rare these days to see a celeb couple still in love after so many years together, but in her Instagram post, Gellar proved they've beaten the odds. The actress shared a sweet selfie with Prinze Jr., and in it, the two still look just as great together as they did back in the day. But just in case anyone thought that they don't still have to work just as hard as everyone else at maintaining their relationship, Gellar quipped in the caption,
Someone told me — Marriage is like a deck of cards. In the beginning all you need is two hearts and a diamond. But years later, you wish you had a club and a spade.
The funny post wasn't the only way the actress commemorated her anniversary though. On Saturday she shared a cute throwback photo of the couple laughing together at their rehearsal dinner on the night before their Mexico wedding, and wrote,
16 years ago today, the night before the wedding. And yes, it was so long ago that pictures were in black and white.
These days, Gellar and Prinze Jr. are parents of two kids — their daughter, Charlotte, is 8, while their son, Rocky, is 6 — and as any other parent couples can attest, it can be hard to maintain a relationship when you're busy raising young kids. But Prinze Jr. recently told Us Weekly that it definitely wasn't an accident that he and Gellar are still happily married. Explaining the secret to their long-lasting marriage, he said,
We treat each other with respect. We didn't just get married because we thought the other was young and hot. I think that sort of crushes relationships a lot. We don't feel fortunate as much as we feel disciplined in the work. Sacrifice is something that's required in marriage ... and our sacrifice I think is maybe the biggest thing that's made our marriage work.
From the sounds of it, Gellar seems to feel the same way. In an Instagram post in honor of her husband's birthday in 2017, she shared another sweet couple selfie, along with some marital wisdom of her own. Gellar wrote,
Happy birthday @realfreddieprinze. 'The happiest people don't have the best of everything, they just make the best of everything.'
And since there can really never be such thing as too many sweet throwback photos of the couple, on their 15th anniversary in 2017, Gellar totally delivered with a Flipagram of some of their cutest couple shots together — one for each year of their marriage.
Thankfully, there are still a number of envy-inducing celebrity couples these days who seem like they could totally go the distance (think Blake Lively and Ryan Reynolds, or Chrissy Teigen and John Legend), but there's no question that Gellar and Prinze Jr. have already outlasted most Hollywood marriages. And hopefully they still have many more years of adorable anniversary selfies still in store.