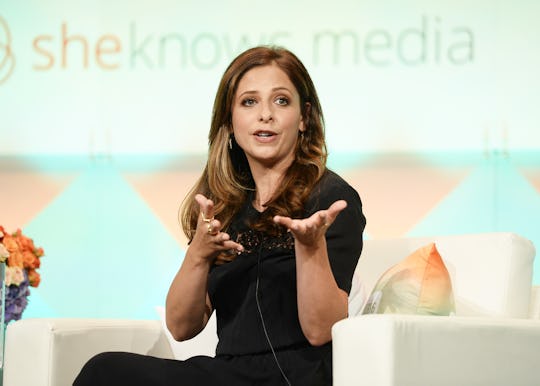 Matt Winkelmeyer/Getty Images Entertainment/Getty Images
Sarah Michelle Gellar Speaks Up About The AHCA
As if you needed any more reasons to believe that health care affects us all, one beloved actress has spoken out against the new Republican effort to repeal and replace Obamacare, and her reasoning is hard to argue. In an Instagram post Tuesday morning, Sarah Michelle Gellar talked about her own postpartum depression, how it affected her, and delivered a strong message for other moms out there. As the American Health Care Act narrowly passed in the United States House of Representatives last week, many across the nation have been concerned as to how the bill would impact their access to health insurance, and, by extension, their struggles with postpartum anxiety, depression and other pregnancy-related issues.
The bill, which is still being considered in the Senate, would grant more power to states, meaning that they could grant insurers the power to charge higher rates for those with pre-existing conditions, such as postpartum depression.
In her post, Gellar called on other mothers to stand up, and "go to callmecongress.com today, find your rep's numbers and let them know," that postpartum depression should be covered by health insurance. As postpartum depression is one of the many mental health conditions that could be considered a pre-existing condition under the AHCA, Gellar's message is an important one, and one that everyone should read, regardless of whether they're a mother themselves. Because the AHCA disregards mental health almost entirely, and that's not okay.
While an official list of what the AHCA would consider to be pre-existing conditions doesn't technically exist yet, postpartum depression is one of the conditions that wasn't guaranteed coverage before the Affordable Care Act. So, with the power left up to the states, thousands of women could be forced to pay exorbitantly high premiums just to get health care if the AHCA passes.
And Gellar is not okay with that. In her post, she wrote,
Having kids is wonderful, and life changing, and rarely what you're prepared for. I love my children more than anything in the world. But like a lot of women, I too struggled with postpartum depression after my first baby was born. I got help, and made it through, and every day since has been the best gift I could ever have asked for. To those of you going through this, know that you're not alone and that it really does get better.
She topped off the post with the hashtag #NotAPreExistingCondition.
Gellar's post proves that women deserve coverage for everything they go through, including all the emotional trauma that comes with having a baby. The AHCA hasn't passed yet, so for now, 24 million Americans are still covered, no matter what "pre-existing conditions" they may have. As Gellar says, if you want it to stay that way, speak up. Call your senator and let your voice be heard.