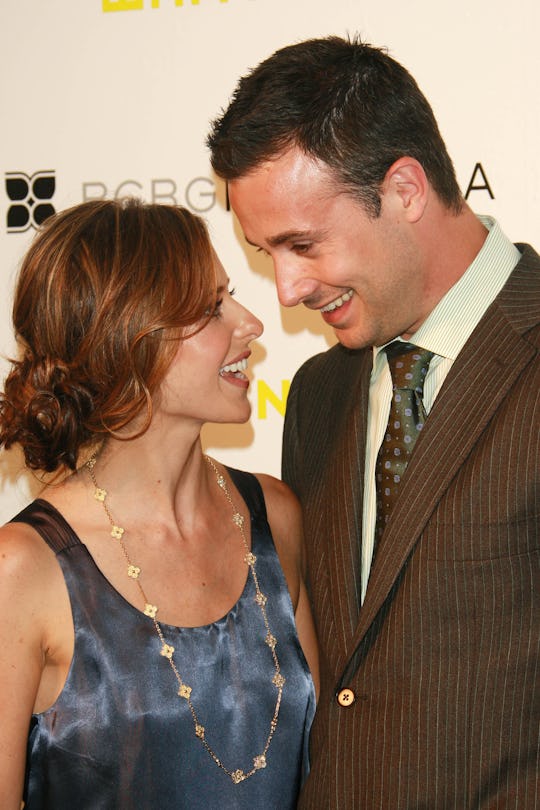 Evan Agostini/Getty Images Entertainment/Getty Images
Sarah Michelle Gellar's Anniversary Message For Freddie Prinze Jr. Is Pure '90s Perfection
Before Chrissy & John, or Blake & Ryan, or any of the other celeb couples giving the world mega #relationshipgoals, there was Sarah Michelle Gellar and Freddie Prinze Jr. The former co-stars — who first met on set in 1997 — became a total "It couple" in the early '00s, and when they married in Mexico in 2002, it was the culmination of pretty much every teen girls' romantic daydreams. Though Gellar and Prinze both took time away from the spotlight for a number of years, they are still going strong, and Sarah Michelle Gellar's anniversary message for Freddie Prinze Jr. on Instagram Thursday was total proof of that (not to mention absolute '90s nostalgia!).
According to TIME, Gellar posted a too-cute throwback photo of herself and her now-hubby, showing the two actors looking gorgeous and totally in love. Gellar captioned the pic, "Happy anniversary @realfreddieprinze You stole my heart, so I got my revenge and took your last name!!" Honestly, that sentiment is kind of stomach-churningly sweet, but given the fact that these two are celebrating 14 years of marriage (now with two kids in tow), I think we can all agree she's earned the right to be as sappy in her declarations of love as she wants, right?
These days, both actors have branched out into ventures highlighting another joint love: food. According to People, Gellar now has her own line of baking mixes and food kits, called Foodstirs, which are kid-friendly, GMO-free, and contain no artificial preservatives, flavors, or colors. Prinze, on the other hand, launched his own cookbook in June, which is actually surprisingly appropriate, given that, according to E! News, he was enrolled in culinary school when he landed his first acting role (who knew?!).
While Prinze hasn't shut the door on acting, he has made a conscious decision to keep his work minimal, according to The Daily Mail, mostly because he wants to make sure he is there to spend time with his children, Charlotte and Rocky. Of returning to acting full-time, Prinze said, "I can't put in 15 hour days. I would never see my kids again, I'm a full-time dad. I'm a part-time actor. I just can't do it."
As for Gellar, she has shared some very wise words in interviews about how she and her husband have managed to make their love last over the years — and it's the kind of advice all couples could probably use, even if they aren't trying to navigate the minefield that is a Hollywood marriage. She told People,
In this busy world, sometimes we forget to tell people [we love them] – make the most of the moments you have. Take the 10 minutes – put the phone down. Have a cup of coffee together. Walk the dog at the end of the night. Read a story with your kids. Make the most of the time that you have.
We are all pulled in so many directions, so make sure that, whichever one you are focusing on, you're present.
Yep, they're just the greatest ever. My inner 14-year-old is has total googly eyes right now.